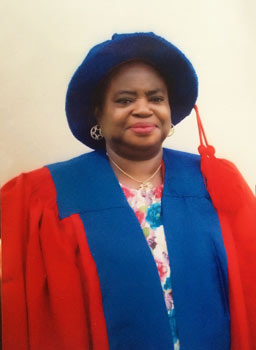 Mrs. Yetunde Olubusola Awofuwa, nee Oworu, is from Isonyin in Ijebu North East Local Government Area of Ogun State but she was born in Kano.
She is a multidisciplinary bureaucrat and retired Director of Education in the Federal Ministry of Education. She joined the Federal Civil Service in 1977 and taught at Federal Government Collge, Odogbolu, worked at the Federal Scholarship Board, Bureau for External Aid, and was an Evaluation and Accreditation officer at the Ministry's headquarters.
Her next work place was King's College, Lagos, a monumental institution where her endurance was fully tested and her managerial skills effectively and efficiently deployed to the admiration of the stakeholders of the college.
Mrs. Awofuwa is the first woman to head King's College in over a hundred years. She introduced calisthenics as a colourful attraction to King's College inter house sports.
She was the first to publish the College Yearbook and also the first to organize acculturation visits for native speakers of Nigerian languages. She also renewed the KC/Achimota Games after 32 years in the lacuna by leading a team of hockey and cricket players to Achimota College, Ghana in 2008. With her classical repertoire of King's College tradition, she kindled the latent passion in the Old Boys to embark on a multi million Naira Restoration Project that culminated into the rehabilitation of the college's physical infrastructure, at the dawn of the college centenary celebrations in September, 2009. It was acclaimed by all and sundry that at KC, she raised the bar.
After a two-year stint in the leadership seat at King's College, she proceeded to Federal Government Girls College, Oyo. Her impact as a change agent was soon to be felt at Owinni (where FGGC Oyo is located).While at Oyo for three years, Mrs. Y.O. Awofuwa recorded several laudable achievements.For emphasis, parts of the achievements are thus listed:
Mentoring System was put in place.
College Houses were reduced from ten (10) to five (5).
Re-sit examination was introduced to improve academic performance of students.
Introduction of computerization of students' termly report.
Resuscitation of academic clubs and societies.
Enhanced school uniform with blazer, worn with new cap and black laced pair of shoes
Photographs of College Prefects were displayed for enhanced self esteem and performance.
College bookshop and uniform shop were established.
Resuscitation of Teaching and Non-Teaching Staff Welfare Association.
The College Magazine "Owinni Flash" was resuscitated after 5 years of dormancy.
Improved Students' Year Book.
The College prospectus was revised twice
The Owinni Queen Statue (a symbol of past, present and future Owinni Queens) was erected and commissioned.
His Royal Majesty, Oba Lamidi Adeyemi 111, The Alaafin of Oyo aptly remarked that "Oyo cannot forget Mrs. Awofuwa".
On the whole, FGGC Oyo experienced a remarkable turnaround as a direct impact of Awofuwa's touch of class.
It is no gainsaying the fact that the most eloquent pedigree of Mrs. Y.O. Awofuwa's achievements in the Federal Civil Service is expressed in the arrays of awards and commendations she received in appreciation of her leadership acumen and commitment to education. In recognition of her immense contribution to the corporate life of King's College, 14 distinguished awards were bestowed on her by the College in her 19 years of service in King's College e.g. Award of Excellence in Recognition of her Immense Contribution to the Development of Education, Sports and Moral Standard; the Centenary Award for Uncommon Passion and Contribution to the Development of King's College, and the Award for Meritorious Service as a Teacher per Excellence.
In addition to the deserving accolades she received while in King's College, Mrs. Awofuwa attracted recognition form corporate bodies, local and international organisations, students' union and women associations.
The Certified Institute of Public Administration, Ghana and Civilian Institute of Democratic Administration in Nigeria, made her a Fellow of their prestigious institutions, while the Editorial Board of the Nigerian Who's Who listed her among the Nigerian Who's Who in Management Intelligence.
The National Association of Nigerian Students (NANS) decorated her with Platinum Award of Excellence in May 2011, while the Association of Women in Colleges of Education (WICE) gave her the Award for Contribution to Human and National Development. She was also decorated with the Woman of Merit Gold Award.
In addition to the honours bestowed on her within the period under review, Mrs. Awofuwa was also nominated for 13 prestigious international awards. On the whole, she has many certificates of honour, several letters ofcCommendation and fifteen plaques.
She bagged a second class upper degree in Education (English) from the University of Ibadan in 1976, read law at the University of Lagos, was called to the Nigerian Bar and planned to retire into legal practice.
Mrs. Awofuwa has attended several capacity building workshops and seminars that enable her to keep abreast of global best practices in education.
After retirement, she is currently the Head of Schools/Principal of Halifield Schools, Maryland, Lagos.
She is happily married to Engr. Samson Oluwole Awofuwa and the marriage is blessed with children.
She is a member of the Nigerian Academy of Education, Teachers' Registration Council, Nigerian Institute of Management (Chartered), Nigerian Bar Association and Music Society of Nigeria (MUSON).