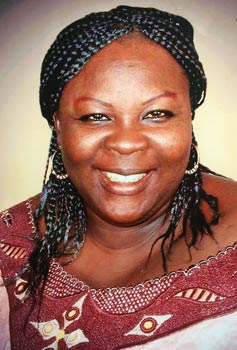 Hon.( Mrs) Helen Hitler Dadi is a highly energetic and resourceful woman.Her impact has been felt across different areas of human endeavour. She is at once a high- flying public servant,a successful politician,a respected community leader, a women empowerment and development champion and the former First Lady of Langtang  North Local Government Area of Plateau State.
Helen was born to the family of Vonnan Longbap, a retired Assistant Commissioner of Police and Juliana Longbap in the town of Langtang in Langtang North Local Government Council of Plateau State on May 3, 1966. She attended L.G.E.A. Primary School, Dengi in Kanam Local Government Council of Plateau State between 1971 and 1977. She studied at the Women Teachers College, Azare in Bauchi State for her Grade II Teachers Certificate between 1982 and 1987.
She obtained her Diploma Certificate in Agricultural Technology in 1991. She enrolled for her Higher National Diploma Programme at the National Veterinary Research Institute, Vom where she graduated with Higher Honours in Agricultural Extension and Management.
Hon. (Mrs.) Helen Hitler Dadi started displaying leadership qualities early in life. She was a Prefect in both her primary school and Teachers College days. She was Leader  of Zumuntan Mata Ekkilisiya, a fellowship of Christian Women. She was also a leader of the National Council for Women Societies and the Financial Secretary of Wives in Association of Local Governments in Nigeria (WALGON). She is an inspiring member of Pan African Christian Women Association (PACWA) and a committed member of the Southern Women's Forum. She was a Supervisory Councillor of Agriculture and Natural Resources in Langtang South L.G.A.and Senior Agricultural Superintendent at the Local Government Commission, Jos.
She is happily married to the distinguished erstwhile Executive Chairman of Langtang South Local Governemnt Council, Hon. (Chief) Hitler F. Dadi,
It was in acknowledgement of her contribution to national development in the field of Community Leadership that Hon. (Mrs.) Helen Hitler Dadi was conferred with the PSR Woman of Merit Gold Award in 2006.