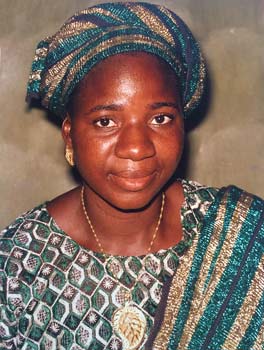 Evangelist (Mrs.) Victoria Jeremiah Madaki is a reputable politician, a religious minister,a humanitarian as well as a community leader. She once was Woman Leader of the Federal Capital Territory, Abuja Chapter of the Peoples Democratic Party.
She was born on January 16, 1966 at Jigo Town. She is of the Gbagyi ethnic group in the Bwari Area Council of the Federal Capital Territory. Victoria attended Shere Primary School between 1974 and 1979. She obtained her General Certificate of Education 'O' Level from MFCT Secondary School, Bwari in 1985. She attended performance improvement courses in Kaduna and Kano, where she obtained Certificates of Merit. She obtained a Diploma in Ministerial and Leadership Development from the Dominion Bible Faith Institute, Garki, Abuja in 1996. She attended the Nigerian Women Empowerment Network (NAWENO) workshop and obtained a Certificate of Attendance in 2003.
Victoria Madaki is a proven go-getter. She started taking leadership responsibilities during her school days. She held the position of Head Girl in both her primary and secondary schools. She was for a long time, Chairman of the Committee for Women Affairs, Bwari Area Council . She was made Woman Leader of the FCT Chapter of the then ruling PDP in 2005.
Evangelist Victoria Madaki worked at the Federal Government Girls College, Bwari, Abuja between 1986 and 1999. Although she has retired from government service, this woman has proven over the years  that she is not tired.
Madaki is a kind-hearted woman. She is the President of an NGO called Widows, Aged People and Orphan's Welfare Foundation based in Abuja.
She has won several awards including a Certificate of Merit and a Special Award in Community Development in recognition of her efforts in assisting widows and orphans .For her contribution to national development in the area of politics, she was conferred with the PSR Woman of Merit Gold Award .
Evangelist Victoria Madaki is married with three children. Her hobbies include reading, volleyball, politics and caring for indigent people.
It