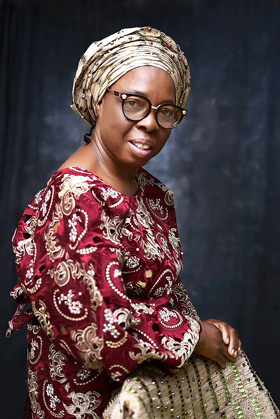 Mrs. Janet Iyabo Jolaoso is a uniquely industrious woman. She is a star in corporate management and she has recorded a lot of career and business accomplishments.
Mrs. Janet Iyabo Jolaoso is a Fellow and the incumbent President/Chairman of Governing Council of the Nigerian Institute of Training and Development (NITAD), the professional body that regulates the practice of Learning, Training and Development in the country. She is also the Managing Director/C.E.O. of Jaybok Nigeria Limited and Managing Partner of Blue Life Nigeria Limited—a Quality Services Improvement Company.
Janet is an alumnus of both University of Ife (now Obafemi Awolowo University, Ile-Ife) and Lagos State University, Ojo, Lagos where she bagged Bachelors and Masters degrees in Microbiology and MBA in Human Resource Management respectively. She is a product of the famous Mayflower School, Ikene—a reputable secondary school in Nigeria—where hard work, dedication and commitment are second to nothing.
Mrs. Jolaoso has over three decades of post-graduation experience and has worked successfully in both manufacturing and service sectors of the economy. As a microbiologist, due to a dint of professionalism and commitment to work, she had a meteoric rise from Laboratory Analyst to Laboratory Manager, and then to Productivity and Planning Manager and eventually, Training Manager. She voluntarily retired as Human Resources Manager in 2003 after a meritorious service and an accomplished career in the corporate world, in order to fulfill her entrepreneurial dream which propelled her to establish Jaybok Nigeria Ltd.
Mrs. Janet Iyabo Kofoworola Jolaoso was born to the family of Mr. & Mrs. Joseph Olanegan Agidigbi.
Her late father fondly called 'Bros Josy' by younger generations, because of his generous nature and love for all, hailed from Ifon Town in Ose Local Government Area of Ondo State. Her late mother, Mrs. Rachael Wura-Ola Agidigbi was born into the royal family of Obamila in Oranre in Yagba Local Government Area of Kogi State.
Iyabo lived her early part of life with her mother's elder sister, late Mrs. Asunmowu Yaya who loved her so much. She got married to Dayo Jolaoso in 1987 and they are blessed with two wonderful sons (Oluwaseun Jolaoso—a University of Cape Town Computer/Electrical Engineering graduate and Oluwagbenga Jolaoso—a Covenant University Marketing graduate who recently got married to Olubunmi Oluwadamilola).
Dayo, an indigene of Ogun state retired from GlaxoSmithKline (GSK) as a Quality Director. He is now into Quality System Improvement and Environment Consultancy as well as Hospitality business.
Iyabo started her primary school education at Ansar-Udeen School at Oranre Town, Yagba Local Government Area, Kogi State and later completed it at Yaba Methodist School Sabo, Lagos. She attended the highly prestigious, disciplined and respected Mayflower School, Ikenne in Ogun State from 1974 to 1979. She participated in the School Common Entrance Examination attended by over a thousand pupils from all walks of life in Nigeria and abroad in 1974. She was successful and took the 26th position which gave her the School Admission Student number 2990. The first position for her set of 1974/1979 was 2964, meaning that Mayflower had already admitted 2963 students before that year. After the 1st term examination, Iyabo came to unit position and remained there until she graduated with Grade One in 1979.
At Mayflower School, Iyabo held various positions during her studentship ranging from "1st Girl" (Best Performing Girl) twice to Relieve Senior Prefect (in Class 4) to Senior Prefect in her final year (1979).
She was a Canteen Supervisor under the leadership of Mrs. Arikawe—one of the highly respected and disciplined teachers. Items were purchased to meet students' needs, sold and accounts rendered satisfactorily.
In sports, she was a school representative in Handball and later became part of Ogun State Handball team. All these activities and her academic performance earned her a wonderful testimonial by the school's principal, Mr. T.F. Odubanjo.
The founder of Mayflower School, the late Dr. Tai Solarin and his wife, the late Mrs. Sheila Solarin were more like parents to Iyabo as she spent most of her holidays with them and she was treated (just as this wonderful couple did to so many of the students then) as a daughter.
Iyabo will never forget a day when in her second year at Obafemi Awolowo University  (then University of Ife), the late Mrs. Sheila Solarin sent her a home made birthday cake all the way from Mayflower School, Ikenne. This was an unforgettable occasion and a demonstration of true love for a child. No doubt, Mayflower School gave her a solid foundation in life in terms of hardwork, discipline, commitment and focus.
In her set, Iyabo was the only girl of the five students from Mayflower School who gained admission straight from secondary school to the university. She was offered admission to the famous University of Ife (now O.A.U.) to read Physiotherapy but her father insisted she should study Medicine because of her academic performance and the prestige attached to the medical profession in those days by the society. She agreed to change her course on completion of her preliminary year, but as fate would have it, she realised she was not going to be happy as a medical doctor.
First, she could not bear the sight of anyone in pain or bleeding and to crown it all, she passed by the cadaver room one day and saw medical students dissecting dead bodies for their practical exercise. She immediately made up her mind that she was not going for Medicine. She changed to Microbiology (after persuading her father who was so caring and loving that she could not bear to hurt him).
Iyabo was happy she studied Microbiology where she obtained both a B.Sc and an M.Sc. Incidentally, she realised later in her career that the principles required to successfully manage micro-organisms are also applicable to the management of "macros" (human beings).
Iyabo also obtained a Master of Business Administration degree in Human Resource Management (MBA – HRM) at the Lagos State University in 1996.
During her university days, she decided to embark on voluntary Industrial Training (as it was not compulsory for Microbiology undergraduates then) at the Nigerian Bottling Company's Canning Plant, Ikeja under the supervision of late Engr. Joe Nwaduegbo in 1982.
Her contribution to quality improvement (microbiologically) boosted the rating of the whole plant on the Quality Chart during that period. Iyabo was given a commendation letter which included a promise to absorb her if she got posted to Lagos State for her NYSC primary assignment. The letter of commendation from NBC gladdened the heart of Iyabo, but she had little chance of being posted to Lagos State considering the objectives of the NYSC.
She is from the West of Nigeria (Ondo State) and she went to school in the West (Lagos, Ogun and Osun). So, obviously, she was expecting deployment to the Eastern or Northern part of the country. She was more than surprised, therefore, when without the arm of flesh but by the mighty hand of God, she was posted to Ogun State. By this time, the Canning Plant of NBC where she did her IT had been moved to the permanent site at Ota in Ogun State.
She served successfully at the NBC Canning Plant, Ota but as she was about to complete her Youth Service, there was an embargo on employment at the company. However, the Management not wanting her to leave, gave her a temporary position pending the lifting of the embargo.
It was during the first month of this temporary position that she got employment at Merck-Farmex (Pharmaceutical) Ltd, a German company.
It was on the day of her interview that she first saw the young, handsome man who later became her husband. Dayo is a Chemistry graduate from the University of Benin. He came for the interview for a Chemist position while Iyabo was there for the position of a Microbiologist.
At Merck Farmex, Iyabo rose from the position of a Microbiologist/In-Process Control Officer to Laboratory Manager between 1984 and 1990 under the supervision of Dr. Erika Falk Oshiga.
She joined Glaxo Nigeria Plc in May 1990 as a Laboratory Manager. Due to her dedication to duty, hardwork, commitment and innovation, she rose from this position to become the Head of Productivity and Planning Department, Head of Training Department, and finally went on voluntary early retirement as Head of Human Resources Department in 2003. She retired to join a South African Business Improvement Company—O.I.M international as a consultant and later became the Nigerian Representative. She also established Jaybok Nigeria Limited which is into Training, Process Improvement, Consultancy and Educational Services among other things the same year. Iyabo also runs a School as a Proprietor (Jaybok Nursery and Primary School), at Iyana Iyesi, Ota, Ogun State.
Mrs. Janet Iyabo Jolaoso joined The Nigerian Institute of Training and Development (NITAD) in 1994 when she was appointed Head of Training Department at Evans Medical Plc. She became the Pioneer Secretary of Ogun State Branch that same year and rose to the position of Chairman for two consecutive terms. She won decision in 2016 to become the 2nd Female President of NITAD.
Mrs. Jolaoso is a member of many professional bodies including the Nigerian Society of Microbiology where she was Pioneer secretary, the Chartered Institute of Personnel Management, the Nigerian Institute of Food Science and Technology and the Nigerian Institute of Management.
She has attended, facilitated and participated in a good number of training and conferences both locally and internationally (e.g. IFTDO). Her areas of strength include (but are not limited to) Process Improvement, Human Resources, Training and Development, Coaching and Mentoring, Culture/Mindset Change, Leadership Development and Quality System Improvement.
She has received many awards including the Productivity Award of Evans Medical Plc 1995, O.I.M. Best Marketer Award 2005, Distinguished Scientist Award of Faculty of Science, O.A.U., 2005 and The Woman of Merit Gold Award in the PSR National Awards by People & Power Online Newspaper.