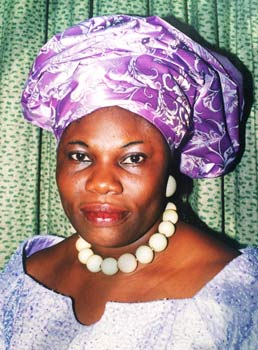 Hon. (Mrs.) Joeba West is a veritable grassroots politician. She ventured into politics in 1996 following the return of a democratic political dispensation in Nigeria. She was Secretary, Political Bureau of the Kalabari National Congress, a political organization led by the late Chief Marshall Harry.
Joeba. along with others. worked hard to secure a brighter political future for the Kalabari ethnic nationality. She later became Women Co-ordinator of the ASALGA Common Front which became the nucleus of the United Nigeria Peoples Congress (UNCP) in her community.
Indeed, Hon. (Mrs.) West believes  in the power of politics as a veritable means by which one can contribute meaningfully to the development of his community, state and nation. Her humility, kind disposition and fearlessness in the pursuit of her goals have proven her to be a woman of strong character and principles.
She contested and won a councillorship seat into Asari Toru Local Government Council during the local government elections of 1997. During her tenure as Councillor, she was Supervisor for Women Affairs, Social Welfare and Community Development and was at the same time Chairperson of the Family Support Programme (FSP). By virtue of that position, she was a Matron of the National Council of Women's Societies, ASALGA Branch, and several other women organizations. Years later, she emerged as Secretary of Asari Toru Local Government.
Hon. (Mrs.) Joeba West used her influence in the council to optimum advantage in her avowed commitment to the political and social emancipation of women. A great mobilizer of people, particularly women, her hard work and dedication earned for ASALGA, the second position at the 1998 Port Harcourt International Trade Fair. Also, she led the women of her local government area to the National Council of Women Societies Biennial Conference in Abuja in 1998,Her local government area emerged first in the category of cultural displays. She was presented with a plaque in recognition of her distinguished service a s Chairperson of the Family Support Programme in Asari-Toru LGA during the Abacha regime.
Mrs. Joeba West was born during the Civil War into the Lilly West and Egede West families of Buguma. Joeba was a precocious child with uncanny verbal abilities and sound reasoning. She attended Christ the King Primary School, Orodu, Lagos. She completed her secondary school education at Kings College of Commerce, Buguma and obtained the West African School Certificate in 1983. Her leadership qualities manifested early. She served her school as a prefect.
She attended the Rivers State College of Education (affiliated to the University of Ibadan) and obtained the National Certificate in Education. As a teacher, she was respected and adored by her students. She later attended the Rivers State University of Science and Technology, Port Harcourt where she obtained a Bachelor of Science (B.Sc) degree in Secretarial Education. She  completed the Master of Education (M.Ed) programme and a Postgraduate course in Business Education in the same university.
It was in acknowledgement of her contribution to national development in the field of Politics and Leadership that Hon. (Mrs.) Joeba West was conferred with the PSR Woman of Merit Gold Award in 2006.