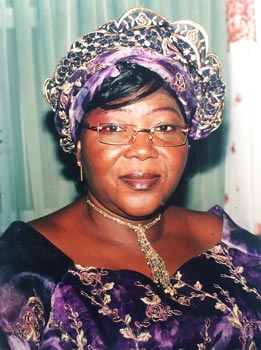 Evang. (Mrs.) Deborah Nana  Iliya is a highly compassionate woman who is commited to the uplift of the poor and the needy. She is greatly involved in humanitarian service and charity work through her non-government organization called Touch A Life Save A Life Foundation. The NGO has touched many lives in Kaduna State.
She is essentially involved in charitable activities for the blind, the less privileged in the society, women as well as people living with HIV/AIDs. Inspite of her efforts, she remains humble, self effacing and committed to her humanitarian work.
Mrs. Deborah Iliya,the daughter of a clergyman is detribalized. She is a respecter of all religions and a charismatic personality. She is a women leader and a great motivator of the youth. She is a combination of private sector efficiency and public sector experience.
Her achievements in the area of humanitarian services can be compared with the works of great woman leaders like Mrs. Funmilayo Ransome Kuti and Mrs. Margaret Ekpo. Her activities have impacted positively on the economic growth and socio-political awakening of people in her community. Humanitarian services aside,Deborah Iliya is also a politician.She once contested the Southern Kaduna Senatorial seat.
Evang. (Mrs.) Deborah Iliya holds a Certificate in Administration and Government Procedures. She also possesses a Diploma in Business Administration and a Bachelor of Science in Sociology.
Her working life began as a primary school teacher. She later worked as sales staff with the Nigerian Modern Bookshop. Thereafter, she worked with the Ministry of Trade, Industry and Cooperatives. She retired as an Assistant Trade Officer. She ventured into private business and became Chairman and Chief Executive Officer of Global Needs Nigeria Limited. She is also the Chairman, Governing Council of the Center for Policy Study and Resource Development.
Deborah Iliya was National Adviser on Disciplinary Matters, Nigeria Army Officers' Wives Association, (NAOWA). She is a former National Vice President, NAOWA, former National Provost of the Defence and Police Officers' Wives Association (DEPOWA)and former Divisional President of NAOWA at the 81 Division, Nigerian Army. She is one-time President-General of the Nigerian Army Christian Women Fellowship (Protestants). She is an associate member and patron, Nigerian Red Cross Society, Lagos State Branch. She is a patron to several youth and women associations.
Her dedication to humanitarian service has earned her various awards and honours. The Association of Former Local Government Chairmen and Councillors in Nigeria conferred her with the Award of Excellence in recognition of her contribution to the advancement of women.The Media Action Coalition conferred a Merit Award on her for exemplary Christian Leadership. She also receive a Dedication Award from the Nigerian Army Protestant Church, Mambilla Barracks, Abuja. Similarly the Center for Policy Study and Resource Development presented her with an Award of Excellence in Humanitarian Service. She received a Dedication Award for her outstanding role as an official of the NAOWA .She received the PSR Woman of Merit Gold Award in 2006.
Inspite of her busy schedule, Mrs. Deborah Iliya finds time to sing songs. She is married to Major-General Samaila Iliya of the Nigeria Army and their marriage is blessed with children.