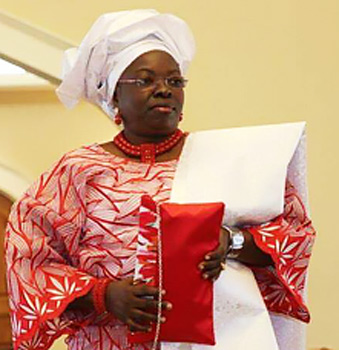 Mrs. Omotunde Olayinka Lawson is a seasoned educationist. She is a teacher with a difference and she has distinguished herself as a school administrator. She is the co-founder of The Christhill Schools based in Lagos.
Omotunde was born on June 3, 1957 in Ibadan, Oyo State. Her parents were the late Rev. Gabriel Ladokun Lasebikan (of SACOBA fame), a former teacher, headmaster, supervisor of schools and Education Secretary in the old Western Nigeria Education Board and late Mrs. Grace Jokotade Lasebikan who was also a teacher.
She had her primary education at St Luke's Demonstration School, Ibadan from 1963 to 1968; her secondary education at Yejide Girls Grammar School, Ibadan between 1969 and 1973 and her tertiary education at the University of Ibadan where she graduated in 1979 with a Bachelor's degree in Teacher Education, Zoology and Botany (2nd Class, Upper Division). She has a Master's degree in Educational Foundations from the University of Lagos (1991).
She started her career as a Biology teacher in Lagos State and retired after 35 years of meritorious service with the Lagos State Ministry of Education. She spent 23 of those years as a Principal in various secondary schools in the state. She attended several local professional seminars and workshops as well as many international conferences across the globe while in the teaching service.
Her diligence and passion for hard work and excellence won her the following awards.
Grand Order of Teaching Excellence by Oba of Iganmu and Council of Chiefs (Nov. 1998), Meritorious Service Award by ANCOPSS Lagos State (Feb. 2005), Pragmatic Leader Award by NUT Amuwo-Odofin Branch (Nov. 2006), Best Principal Award (Senior) by Education District V (Feb. 2009), Lagos State Government 2007 Productivity Merit Award (Jan 2011), Most Dynamic State ANCOPSS President Award by Education District V (Apr. 2015),  Merit Award As a Molder and Worthy Principal by NUT (Oct. 2015) and Lagos State Long Service Merit Award (June 2016).
She is a member of these professional bodies: Nigeria Union of Teachers (NUT), Science Teachers Association of Nigeria (STAN), Institute of Public Administration of Nigeria (IPAN) and All Nigeria Confederation of Principals of Secondary Schools (ANCOPSS). She is a fellow of the Institute for Corporate Administration (FICA).
In the course of her career, she served in the following capacities:
Secretary, ANCOPSS, Surulere Zone (1996–1999); Treasurer/Financial Secretary, Lagos State Principals Cup Committee (1999-2003); Financial Secretary, ANCOPSS, Lagos State (2000 – 2005); Chairman, Committee for the launch of N10million Amuwo Odofin Teachers' Welfare Scheme (2005); Member 1st Merit Award Committee, Education District V (2008); Member of Panel on Staff Promotion Interviews in Education District V (2005 – 2012); Chairman, ANCOPSS Amuwo Odofin Zone (2012-2014); President, All Nigerian Confederation of Principals of Secondary Schools (ANCOPSS) Lagos State (Nov.  2014 – Feb. 2017); Chairman, ANCOPSS South West BLOC (2016- Feb. 2017); Member, Amuwo – Odofin Local Government Disaster Management Committee (2013); Member, Governing Council of Adeniran Ogunsanya College of Education (Nov 2014 – Feb. 2017) and Member, State Wing Executive Council of N.U.T Lagos State (Nov. 2014 – Feb. 2017). She also served on many other committees at the Ministry of Education, Teachers' Establishment and Pensions Office and Education District V. 
Within her 35 years in service, she attended over 50 local workshops, trainings and conferences. She also attended international conferences in the United Kingdom, Finland, South Africa, Ghana and Kenya.
She retired statutorily from the service of Lagos State Government in Feb. 2017. She was a totally committed teacher who nurtured and produced very successful students now working within Nigeria and abroad. She retired into private practice and is currently in partnership with her husband in the management of a leading private educational institution in Lagos State. 
Her passion to serve humanity drove her into joining Rotary International and was inducted into Rotary Club of Lagos West, District 9110 on 15th September, 2007. She served diligently in different committees and finally became Club President for 2012-2013 Rotary year. She bagged the Best Club President award in Rotary International District 9110, Nigeria that year.
She has attended Rotary International conventions in California, USA (2009); Birmingham, United Kingdom (2010); Montreal, Canada (2011); Sydney, Australia (2014); Sao Paolo, Brazil (2015) to mention a few.
She is a life member of the Rotarian Action Group for Blindness Prevention. She is a Major Donor to the Rotary Foundation and also a benefactor. She is a Christian of the Catholic faith and a Jerusalem Pilgrim (JP). She is happily married to Mr. Francis Akingbade Lawson and both are blessed with very successful children and grandchildren.
It was in recognition of her accomplishments in the field of Education that Mrs. Omotunde Olayinka Lawson was in 2017 conferred with the Nigerian Illustrious Women Award by People & Power.