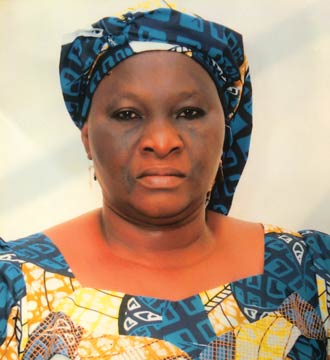 Mrs. Hannatu Jonah Dazi is a woman who has served Nigeria diligently and patriotically. She has paid her dues in the development and management of education in the nation. She is easily the teacher's teacher and an education administrator of the first order. Before she retired a few years ago,she was the principal of Federal Science and Technical College, Kafanchan, Kaduna State.
Hannatu was born on July 24, 1954 at Rijau, Niger State but she is an indigene of Zuru Local Government Area of Kebbi State. Her early education was at United Missionary School, Tungan Magajiya in Niger State (1963-1967). Between 1968 and 1972, she attended Government Girls Secondary School, Minna.
Thereafter she spent a year (1973) at the Staff Development Centre, Sokoto where she earned a Clerical Officers Certificate. In 1975, she enrolled at Women Teachers College, Birnin Kebbi (Pivotal) for a Grade II Teachers Certificate which she bagged in 1978. She went on to bag the N.C.E. in English & History from College of Education, Sokoto (1978-1981).
Indeed, Hannatu Dazi is a woman who from her early years, showed great determination to advance herself educationally. After her N.C.E., she enrolled for a degree programme at Ahmadu Bello University, Zaria in 1982. She graduated with a B.Ed Social Studies in 1984. From November 1986 to November 1987, she read at the University of Lagos and earned a Master's degree in Adult Education.
Mrs. Hannatu Dazi's career profile is as engaging as it is interesting. She started out as a primary school teacher at Senchi and Kamba in Sokoto State. Afterwards, she worked as a Clerk at the Sokoto State Ministry of Agriculture and Natural Resources. She also worked as classroom teacher at Model Primary School, Birnin Kebbi Road, Sokoto and then, Giginya Memorial Teachers College, also in Sokoto.
After working as Education Officer at the Federal Ministry of Education, Lagos she taught at Federal Government College, Bwari. From there, she became Vice Principal (Academic) at Federal Government College, Keffi, Nasarawa State. She occupied the same position at Federal Government College, Anka, Zamfara State until she was made Vice Principal (Administration). Subsequently, she was transferred to Federal Government College, Kwali, FCT as Vice Principal (Special Duties).
It was from that point that Mrs. Dazi was promoted Principal of Federal Government College, Gwandu, Kebbi State. It was from there she was made Principal Federal Science and Technical College, Kafanchan.
Mrs. Hannatu Dazi participated in many seminars and workshops. She was a Schedule Officer during the launch of the National and International Literacy Year in 1990. She was secretary during the drafting of the Blue Print for Mass Literacy, Adult and Non-Formal Education. She was also a Schedule Officer on the Adult Literacy Day Celebration and on the UNESCO Literacy Prize Award.
It was in acknowledgement of her contribution to national development in the field of Management and Development of Education that Mrs. Hannatu Jonah Dazi was conferred with the PSR Woman of Merit Gold Award in 2013.