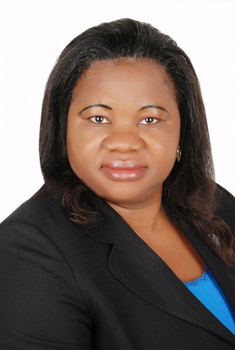 Mrs. Anastasia Gbem has served for more than two decades in the aviation industry where she has held several important positions of high responsibility and has grown a very sound, active and progressive professional career.
Mrs. Gbem has served as  Legal Adviser to the Nigerian Airspace Management Agency (NAMA) and a member of the top executive management team. As the Chief Law Officer of the Agency, she is responsible for the determination of all the legal affairs and policy issues affecting the operations of the Agency and ensuring that all the Agency's actions completely comply with regulatory requirements, relevant statutes, executive orders, rules and regulations, policies and procedures. She is also responsible for interpreting the Agency's laws and policies, coordinating proper implementation thereof, and proposing and initiating amendments to the Agency's laws as well as providing complete, accurate and timely legal advice and general guidance to the board, management and staff of the Agency.
Prior to this, Mrs. Gbem was the Company Secretary/Legal Adviser to the Nigeria Civil Aviation Authority (NCAA). In this capacity, she provided legal advice to the Governing Board of Directors, Management and staff on all legal matters involving the entire operations of the organization including issues of aircraft registration and certification and general regulatory oversight of the Nigerian Aviation industry.
Mrs. Gbem has recorded many firsts. She was the pioneer Legal Adviser to the Nigerian Accident Investigation Bureau (AIB), pioneer Chief Legal Officer to the Nigerian Civil Aviation Authority before becoming the Company Secretary/Legal Adviser. She was also pioneer Legal Officer to the defunct Federal Civil Aviation Authority (FCAA) and perhaps the first person to serve as legal adviser in three of the nation's aviation parastatals. She has also served as Principal Legal Officer in the Federal Airports Authority of Nigeria (FAAN).
Over the years she has been involved with the modernization, development and adoption of laws governing civil aviation activities both at the national and international levels. She played a leading role in facilitating the ratification of several international air law instruments by Nigeria (first time in the history of the aviation industry in the country) and by this placed Nigeria ahead of other African countries. She has served on several ministerial committees including the Committee on the Establishment of the Nigeria Civil Aviation Authority and the Nigerian Airspace Management Agency where she drafted the bill that was passed into law to establish the NCAA and NAMA. She was also a member of the team that successfully got Nigeria to obtain the United States of America's coveted Category One Certification where she led a group of lawyers to prepare and produce a Compliance and Enforcement Handbook for NCAA.
Mrs. Gbem has served as a delegate representing Nigeria on several International Civil Aviation Organization (ICAO) meetings including ICAO Legal Committee, Diplomatic Conferences and General Assembly. She was a member of the Drafting Committee on Cape Town Convention, General Risk Convention, Beijing Convention and Committee of Experts of the International Registry of the Cape Town Convention.
A law graduate of Ahmadu Bello University Zaria, Mrs. Gbem also holds a Master's degree in Air and Space Law from McGill University, Montreal, Canada and is a PhD candidate in Space Law at Leiden University, The Netherlands. She is one of the few lawyers in Nigeria who have specialized exclusively in the field of Aviation and Space Law. She has equally acquired several professional training certificates from IATA Training and Development Institute, United Kingdom Civil Aviation Authority as well as the International Law Institute and Aviation Academy, Egypt.
She has several publications to her credit includin: Air Law in Nigeria: Problems and Prospects as well as Space Law and Policy in Some African Countries. She has regularly presented papers at the Nigerian Institute of Advanced Legal Studies, Nigerian Bar Association Section on Business Law and other aviation conferences and seminars.
Mrs. Gbem is a life member of the Institute of Air and Space Law Association, Montreal, Canada; Vice Chairman, Aviation Committee, Section on Business Law of the Nigerian Bar Association; Member, International Bar Association; Member, Women in Aviation International; Member, Women Corporate Directors and Member, Zonta International.
It was in acknowledgement of her contribution to national development in the field of Law and Legal Services that Mrs. Anastasia Aver Gbem was conferred with the PSR Woman of Merit Gold Award in 2013.
She is happily married to Arc. T.F. Gbem and blessed with three lovely children namely Phoebe, Fabian and Festus.