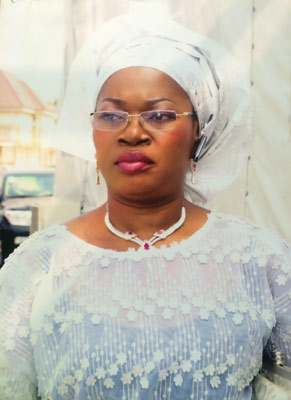 Dr (Mrs.) Olayinka Olajumoke Ibidapo hails from Ilesha in Osun State, Nigeria, but was born in Lagos to the family of Late Elder Josiah Olagunju and Adebisi Omotunde Olajoyegbe on  October 8, 1958. From an early age,  Olajumoke Ibidapo always wanted to be a medical doctor. She pursued her studies with the strong determination and focus that was required to achieve this goal.
She attended Ireti Primary School and Holy Child College, both in Ikoyi, Lagos where she passed out in flying colours. She went on to read for her Advanced Level examinations at International School, University of Ibadan, Ibadan, Oyo State, Nigeria. Having met the requirements for admission to study medicine, she attended the prestigious University of Ibadan and graduated with an MB.BS in June 1982.
Dr Olajumoke Ibidapo joined the Lagos State Civil Service on  Apri 1, 1985 and spent her early working days in rural Badagry in order to reach out to the under-served communities. She was later posted to the Lagos Island Maternity Hospital where she served for four years and was acknowledged as a very hard working and excellent surgeon. However, it was at this time that she decided to specialize in Ophthalmology, and subsequently put her energy into achieving it.
Ibidapo was admitted at the University College Hospital, Ibadan for four years. She finished with honours and was rewarded with the Residency Training Year Abroad Program. She left Nigeria to consolidate her experience in eye care under the renowned Ophthalmologist, Mr. J.J. Kanski at the King Edward VI Hospital, Windsor, England.
Years later, she had further specialist training in Germany. She is a Fellow of the Faculty of Ophthalmology of The National Postgraduate Medical College of Nigeria as well as The West African College of Surgeons. Dr Ibidapo returned to Nigeria and went back to continue her service with the Lagos State Government. Soon after her return, she became the Secretary of the Lagos branch of the Ophthalmological Society of Nigeria. At this time there was a drive by the Society to vigorously reduce the prevalence of blindness in the country. Together with the then President, Dr Toyin Ogundipe, and then Commissioner for Health, Dr Leke Pitan, she pushed for assistance and involvement of the government in this laudable goal. The program became very successful as it reached out to give sight to the poor members of the society. It became fully endorsed by the government of Asiwaju Bola Ahmed Tinubu.
Dr Olajumoke Ibidapo thus became the founding director of the Lagos State Blindness Prevention Program Unit of the Ministry of Health, Alausa Secretariat, Ikeja, Lagos. This program became a gold standard for community eye care by other state governments in the country. While in the ministry, she also coordinated other health programs and acted as Director of Medical Administration, Training and Programs. She was also Director in charge of Continuing Medical Education. Her work gave her the unique opportunity of working with Osun, Ekiti, Oyo and Ondo state governments, in collaboration with other organizations like Rotary International, Lions Club, churches and schools.
Dr Olujumoke Ibidapo later moved from the Ministry of Health to work at the Lagos State University Teaching Hospital, Ikeja. She is currently involved in the training of residents in Ophthalmology and is the Residency Training Director of the department. She is a member of the Board of the Faculty of Ophthalmology of The National Postgraduate College of Nigeria. She is the Medical Director of Viewpoint Specialist Eye Centre in Lagos which is a comprehensive eye care facility  she established in 1997.
Outside the field of medicine, she serves as a director on the board of Mutual Alliance Investments and Securities – a stock broking firm based in Lagos.
It was in acknowledgement of her contribution to national development in the field of Orthodox Medical Practice that Dr (Mrs.) Olayinka Olajumoke Ibidapo was conferred with the PSR Woman of Merit Gold Award in 2013.
She is happily married with lovely children.