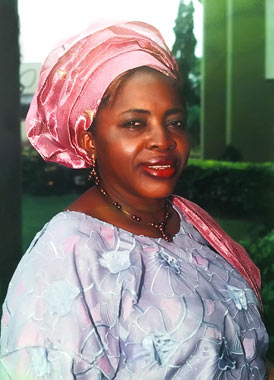 Dr Adaoju Iringere is a distinguished medical practitioner. She is a Chief Medical Officer with the Federal Medical Centre, Ebute-Metta, Lagos. She is widely acknowledged by many of her patients and their relations as a dedicated and gifted doctor. She is a physician to the core.
Born on September 23, 1959,  Stella Adaoju Iringere comes from Bonny in Rivers State. She started her education in January, 1966 at Bonny Government school. She obtained the First School Leaving Certificate in December, 1971 and proceeded to Archdeacon Crowther Memorial Girls' School Elelenwo, Rivers State in January, 1972. She earned the West African School Certificate in June, 1976 and the General Certificate of Education O' Level in December of the same year.
Stella was admitted into the University of Maiduguri in January, 1978 to study medicine. She obtained the MB.BS degree in August, 1985. She has also studied for a Master's degree in Public Health at the Lagos State University College of Medicine (LASUCOM).
Her work experience started with her housemanship at the University of Port Harcourt Teaching Hospital from September, 1985 to September, 1986. She did her National Youth Service at the Police Clinic, Makurdi, Benue State from September, 1986 to September 1987. In October 1987, she took up appointment with the Rivers State Health Management Board and was posted to Okrika General Hospital as a medical officer.
She worked there in that capacity until October 1989 when she joined the paediatrics department of University of Port Harcourt Teaching Hospital. While at UPTH, she rose to the position of a Registrar. In April 1995, she left Port Harcourt to take up appointment with the then Nigerian Railway Corporation Health Services.
On May 26, 2004, the Federal Executive Council (FEC) approved the upgrading of the Railway Medical Centre, as it was then known, to the Federal Medical Centre. While in the services of this hospital, she has worked in different departments like the general outpatient, medical, paediatrics, accidents and emergencies and the staff clinic.
She has attended a lot of seminars and conferences within Nigeria. Notable among them are: Train-the-Trainer Course in Neonatal Resuscitation for Physicians sponsored by LUTH & The Church of Jesus Christ of Latter Day Saints in February, 2006; The Annual Scientific Conference organized by Medical Women's Association of Nigeria (Lagos State Branch) in November, 2006; Common Paediatric Emergencies Courses 1 organized by the Continuing Medical Education Division of Health Link Nigeria Limited in August, 2006; Improving NHIS Knowledge – Base, for better NHIS services and benefits organized by the Federal Medical Centre, Ebute-Metta in October, 2011; Quality Improvement & Clinical Governance organized by Vesta Healthcare Partners in Abuja in November, 2011; Health Planning & Policy Workshop organized by MWAN & MHS (Managed Healthcare Services) Limited in August, 2012; Basic Life Support for Health Care Providers organized by cardinal academy of emergency care in October, 2012 and Advanced Airway Management organized by Cardinal Academy of Emergency Care in October, 2012.
Dr Stella Adaoju Iringere has served in different committees in different capacities at the Federal Medical Centre, Ebute-Metta. She was Chairman, Send-forth Committee from December 2009 to December, 2010; Chairman, Certificate Verification Committee from February 2010 to February, 2011; Member, Junior Staff Promotion Committee and Member of an ad-hoc committee to investigate the management of a patient in December, 2012.
She was Head of Department of Accidents & Emergencies from June, 2011 to July, 2013. She received a merit award from the hospital as, "Doctor of the Year" in 1996.
Dr Stella Adaoju Iringere was conferred with the PSR Woman of Merit Gold Award in 2013. She enjoys music, reading, cooking and charitable activities. She is a devout Christian and is married with children.