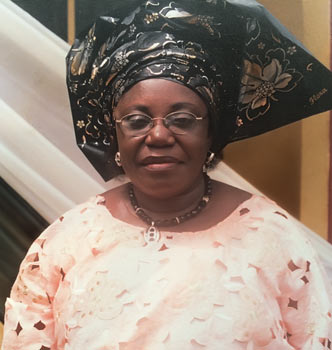 She is one woman who has a burning desire to educate young people. She believes that the Nigerian nation would attain greater heights if enough attention was paid to both the moral and academic grooming of the youth,. Mrs. Anne Aisha Yusuf has been an educationist and school proprietor for the past 22 years. Today, she runs one of the most distinguished private schools in the commercial city of Kano namely Rabi & Zainab International School.
Born on September 3, 1963 she hails from Uyo, Akwa Ibom State but is married to a man from Kano State. Her father, the late Mr. Efiok Adah was a 1936 graduate of the famous Hope Waddel Training Institute, Calabar. Her mother, Mrs. Afiong Efiok Adah was  a successful trader.
Anne had her primary school education at Edgerly Memorial Primary School, Calabar between 1970 and 1975. In 1980, she passed out from Udo Udoma Secondary Commercial School Ibekwe, Ikot Abasi, Akwa Ibom State where she also served as Girl's Senior Prefect.
Afterwards, she proceeded to the School of Accountancy and Business Studies and left in 1984. She bagged the Diploma in Marketing from the Nigerian Institute of Journalism (NIJ), Lagos in 1990.
She had her first feel of paid employment as a cashier at Adalma Tanker and Bunkering Plc in Lagos. She also worked in the National Directorate of Employment, Uyo until 1991 when she moved to Kano and eventually began her career in teaching.
Yusuf taught at the Police Academy Children's School Challawa, Kano between 1991 and 1992. She worked as a teacher at Ijeoma Group of School Bompai, Kano and as the Headmistress of Adeola Nursery and Primary School Challawa until 1995 when she established her own school.
Rabi and Zainab International School has grown to become the toast of most parents who want the best for their children and wards. Aside from having a crop of well trained teachers and an array of curricular and extra-curricular facilities, the school is duly registered and approved by the Kano State Government, the West African Examination Council (WAEC) and the National Examination Council (NECO).
She enjoys engaging in philanthropic work and counseling indigent people as hobbies. She is also a lover of good music. Her marriage to Alhaji Muhammed El-Mahmud Yusuf produced two children namely Rabi and Zainab as well as six grandchildren.
It was in acknowledgement of her contribution to national development in the field of Management & Development of Education that Mrs. Anne Aisha El-Mahmud Yusuf was conferred with the PSR Woman of Merit Gold Award in 2013.