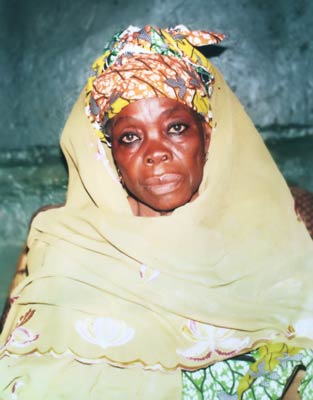 She is a woman who is full of  piety and acts of benevolence. A humane and highly religious Amazon, she has devoted a large chunk of her resources to serve the cause of the masses and the downtrodden.
That is the story of the life of Hajiya Goma Yusuf who is arguably one of the most notable female philanthropists from the ancient city of Zaria, Kaduna state. She is a strong promoter of Islamic education especially in the northern parts of Nigeria.Although she did not have the compliments of western education, she is known to have built  many Islamiyya schools across Zaria.
At Ahmadu Bello University,Zaria, where she has interacted with students and several distinguished scholars for the past 40years,she is very well known.She is known to have mingled with the likes of the late Hajiya Gambo Sawaba, Alhaji Mustapha Danraka, Hajiya Ramatu Musa (top cafeteria operator and contractor at ABU) as well as former Vice Chancellors of ABU namely Prof. Daniel Saror and Prof. Ango Abdullahi.Her closeness to these personalities helped promote her standing as a remarkable businesswoman and socialite within Zaria and beyond. Her fame has grown so much that she is fondly referred to as  Hajiya Goma Ikon Allah Sai Kallo.
Hajiya Goma Yusuf built a mosque in Giwa, Kaduna State and also contributed immensely to the building of the HayanDogo Mosque at Samaru, Zaria. Now retired from active business activities, she has performed the Muslim Pilgrimage to the holy land of Mecca a record 27 times.
Born 85 years ago at Limanci Kona area of Zaria, her parents were Malam Fagachi Babale and Malama Fada Sukuru both from Zaria. Although a full blooded Hausa woman, Goma Yusuf is married to a Yoruba man from Ogbomosho, Oyo State named Malam Yusuf Lawal. Their union produced children, grandchildren, and great grandchildren.
It was in acknowledgement of her contribution to national development in the field of Islamic Education that Hajiya Goma Yusuf Zaria was conferred with the PSR Woman of Merit Gold Award in 2013.