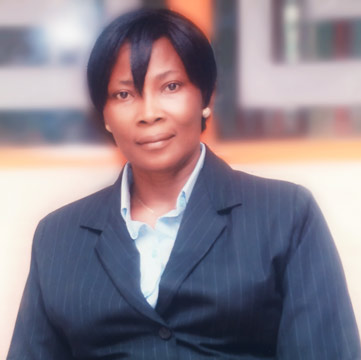 Dr. Mrs. Anthonia Ugochi Ejifugha is a well-bred scholar who has contributed to the advancement of the nation's educational sector. She is highly resourceful and committed to her chosen career. An expert in Health Education, she has been a Reader (Associate Professor) and Head of the Department of Physical and Health Education of Alvan Ikoku Federal College of Education, Owerri.
She was born at Awo-Omamma in Oru East Local Government Area of Imo State on May 21, 1957. She obtained the Teacher Grade II (merit level) Certificate from the Teacher Training College, Ehime, Imo State in 1979. She bagged her B.Ed. (Adult Education),  M.Ed. (Health Education) and Ph.D. (Health Education)  from the University of Nigeria, Nsukka in 1984, 1987 and 1995 respectively.
She attended the Basic Certificate Course (BCC), the Leadership Certificate Course (LCC) and the Leadership Diploma Course (LDC) of the Word of Faith Bible Institute which is run by the Living Faith Church Worldwide.
Dr. Antonia Ejifugha has been at Alvan this past 25 years. Having joined as Lecturer II, she was promotedLecturer I in 1994. She became a Senior Lecturer in 1997 and Principal Lecturer in 2000. She was promoted to the rank of  Reader in 2006. She has been a part-time lecturer at Imo State University, Owerri since 2005. She has supervised several NCE and B.Sc. theses. She was an External Examiner at Adeyemi College of Education, Ondo in 2010. An excellent academic, she has produced many journal articles and chapters in books. She has also attended and presented papers at several academic conferences, seminars and workshops. Her published books include Fundamentals of Research in Health Education, Development of Health Education in Nigeria, Equipping the Health Teachers, Primary Healthcare in Nigeria and Dynamics of Interpersonal Relationships.
Ejifugha has had the privilege to edit several academic journals including The Nigerian School Health Journal, The Nigerian Journal of Health Promotion and The Journal of Health Research. She has also edited the Alvana Journal of Science. She was the Associate Editor of The Nigerian Journal of Education in 1998.
She belongs to several professional associations including the Nigerian School Health Association (NSHA), the Nigerian Association of Heath Educators (NAHE),the Health Promotion Research Association of Nigeria (HEPRAN), the Association for Promoting Quality Education in Nigeria (APQEN), the Nigerian Institute of Management (NIM) and the Teachers Registration Council of Nigeria (TRCN).
Anthonia Ejifugha is the President of Royal Ambassadors, Owerri. She is an active and executive member of the Catholic Women Association, Queen of Peace Station, Egbeada Federal Housing Estate, Egbeada, Owerri. She was the Secretary of Pioneer Turning Point Committee of the Living Faith Church, Owerri in 2009.
She earned the honour of being listed in the American Biographical Institute Journal in 2004. She holds the title of Eziada (Daughter of Honour) which was conferred on her by her native Ofekata III Community in Awo Omama in 2009. Her other awards include Distinguished Academic Award (2007) by the School of Natural Sciences, Alvan Ikoku Federal College of Education, Owerri and the Distinguished Legend Award of Service (2010) by the Alumni Association of Alvan Ikoku Federal College of Education Owerri. She is also a recipient of thePSR Development in Nigeria Merit Award.
She is married with five children and her hobbies include mentoring youths, Christian fellowship and attending women activities.