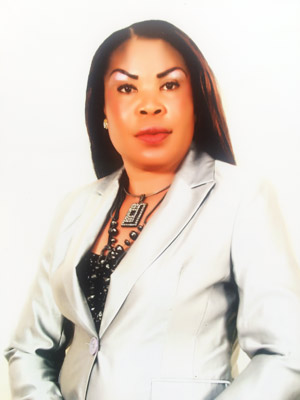 She is a charismatic preacher, a resourceful church administrator and a hard-working woman. Bishop Junita Chiwendu Joseph is the Founder and General Overseer of Christ Church on the Hill which is located at Nyanya in the Federal Capital of Abuja.
She was born at Amaeke, Abririba in the Ohafia  Local Government Area of Abia State on February 20, 1972. She began her education at Amaeke Primary School, Abririba (1978-1984). She then attended Eugena Girls High School in the same town from 1984 to 1990. She trained as a teacher at the Women Training Centre, Umuahia and got a Teacher Grade II Certificate in 1992.
Junita was admitted to read Mass Communication at the University of Uyo in 1995 and she graduated in 1999. However, even before graduation, she was already working in the church. Everything about her seemed to be focused on church ministry.
Indeed, between 1998 and 1999, she attended Victory Bible College, Enugu where she got a certificate in Theology. She attended the Basic Pastoral Course Part I of the International Minister  Education Programme, UK in 1999.
Bishop Junita Joseph cut her teeth as a pastor in 1998 when she worked as Crusade Manager/Resident Pastor at Zion Church International, Aba. She was Head of Intercession at Victory Bible Church, Enugu in 1999. She also worked as Sunday School Superintendent in the same church. In 2000, she worked with Glorious Ministries, Enugu where she engaged in raising prophets and training spiritual leaders.She founded Christ Church on the Hill in 2000. She was elected Bishop of Ralphers Faith College of Bishops, UK in 2009.
Junita Joseph is also President of Star Club International whose mission is "to raise youths in God's pattern for peace of the land and development". She is also Founder of Global Women of Great Influence whose goal is to raise women for the development and peace of the nation.
She has attended various courses and conferences within and outside Nigeria. They include the All African Leaders Conference in South Africa (2009); Youth on Fire Conference, USA (2009); International Women Conference, Ghana (2010); Gold Field International Health Seminar, Ghana (2010); Kingdom Star Conference, Port Harcourt (2010); Banquet of Esther Conference, Warri (2011) and ILCOM School of Ministers, Abuja (2011).
The Bishop is a member of many organizations and associations including Pentecostal Fellowship of Nigeria, the Spiritual Leadership Forum, Children's Plight of South Africa, GIWA (Global Intercession of Women in Africa), Wailing Women (Interceding for World Peace) and the Royal Women Organisation (Nigeria). Her hobbies are preaching, singing, travelling and praying.
Bishop Junita Chiwendu Joseph was conferred with the Development in Nigeria Merit Award by PSR Magazine in 2011.