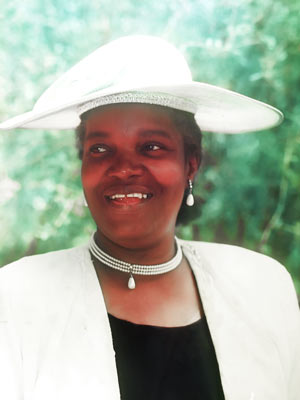 Dr. (Mrs.) Ada Rosemary Nwokocha has a tall stature in the world of medicine. She is meticulous and highly committed to the cardinal objective of her profession which is to save and protect human lives.
Nwokocha is a specialist in Paediatrics. She has taught for several years at the College of Medicine of the University of Nigeria. She is also a  consultant paediatrician to the University of Nigeria Teaching Hospital (UNTH), Enugu.
An indigene of Anambra State, she was born in the city of Croydon, England on February 23, 1951. She had her elementary education at St. Paul's Practising School, Akwa (1955-1960). She attended Red Cedar School, East Lansing, Michigan, USA (1961-1962), East Lansing Junior High School, East Lansing, Michigan,USA(1962-1963) and Anglican Girls' Grammar School Umunya, Anambra State (1964-1971).
Ada Nwokocha graduated from the University of Nigeria, Nsukka with the BM; BCH in 1978. She earned the specialty in paediatrics (FMC Paed) much later in 1992. She holds the qualification of MNIM and was trained in Clinical Exposure in Adolescent Health between 1999 and 2000.
The entire community of the University of Nigeria, Nsukka has felt the impact of this enigmatic woman in several forms. She was Faculty Representative at the Senate in 2005. She is former Acting Director, Directorate for Research and Publication, College of Medicine, Enugu Campus as well as former member, University Ethics Committee. She held the position of Head of the Department of Paediartrics between 2008 and 2009.
Dr. (Mrs.) Nwokocha has over 40 conference papers to her credit. She has also attended and delivered over 30 scientific presentations at several local and international academic fora. She is the co-author of the book titled Child Abuse and Neglect/Child Maltreatment: Paediatrics and Child Health in a Tropical Region.
As an authority in Adolescent Health matters, she has personally sponsored so many projects and workshops aimed at creating awareness on the several aspects of youth and adolescent life. One of these was the Non-Residential Holiday Camp which was organised by the Organisation of the Youth (O-SAY) and sponsored by Nestle Nigeria Plc in 2002.
She is a member of the Medical Women Association of Nigeria (MWAN) and the Nigeria Medical Association. She was the co-ordinator of the Enugu State branch of the Civil Society on HIV/AIDS in Nigeria between 2002 and 2007. She is the Founder and President of the Organisation for Self Actualisation of the Youth (O-SAY). She was Treasurer of the Paediatric Association of Nigeria. She was also President of the Adolescent Parenting Programme (CAPP). An avowed lover of music, she is Choirmaster of the Cathedral Church of the Good Shepherd, Enugu.
Dr. (Mrs.) Ada Nwokocha enjoys music, photography, writing, youth activities, acting/watching drama as well as cooking and sewing. She is married with children.
It was in recognition of her contribution to national development in the sphere of Human Medicine in Nigeria that Dr. (Mrs.) Ada Nwokocha was conferred with the Development in Nigeria Merit Award in 2011 by PSR Magazine..