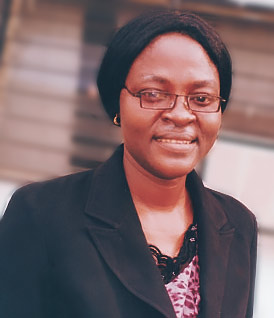 Mrs Aderonke Bosede Awoseemo is widely recognised and acknowledged in the nursing profession.  A trainer of nurses, she has won a lot of accolades and commendations from several distinguished quarters including the World Health Organisation. A professional to the core, she is  the indefatigable Vice Principal (Administration) of the School of Nursing at Obafemi Awolowo University Teaching Hospital Complex (OAUTHC), Ile-Ife. She is also an Assistant Director (Nursing Education) at the institution.
Aderonke was born over 50 years ago to the family of Mr Emmanuel and Mrs Sarah Alarape of Iwo Town in Osun State. She had her early education at First Baptist Central Primary School, Ilare, Ile-Ife. She attended Our Lady's Girls High School, Modakeke, Ile-Ife where she earned the West African School Certificate in 1981. Most of her tertiary education was done at the Obafemi Awolowo University, Ile-Ife where she bagged the qualifications of Registered Nurse (RN), Registered Midwife (RM), Bachelor of Nursing Science (1998) Postgraduate  Diploma in Education (1998) and Master of Science in Nursing (2007). Her other professional qualifications include Registered Public Health Nurse and Registered Nurse Educator.
She worked as a Graduate Nurse at the School of Midwifery, Bauchi in 1989. Having worked at the Staff Clinic of the Nigerian Telecommunication Limited, Bauchi in 1990 she proceeded to the School of Midwifery, Oluyoro Catholic Hospital, Ibadan where she functioned as a Nurse Clinician. She was first employed at the Community Health Department of OAUTHC as a Public Health Nurse in October 1990. She rose through the ranks to become an Assistant Director at the institution in January 2006. She was the Vice Principal (Academics) until August 2012 when she was moved to the position position of Vice Principal (Administration).
Mrs Awoseemo has performed several other assignments within and outside the confines of OAUTHC. She has functioned as Head of the Department of Nursing Specialties of the Schools of Nursing in Ile-Ife and Ilesa. In 2003, she was a resource person at the IMCI (Pre-Service) Review Meeting for Nursing Schools which was organised by the Nursing and Midwifery Council of Nigeria at the Psychiatric Hospital, Yaba, Lagos. Since 2011, she has been a guest lecturer at most of the seminars and workshops organized by the Nursing and Midwifery Council of Nigeria. She has served as External Examiner at Babcock University, Ilishan-Remo, Ogun State and Ladoke Akintola University of Technology, Ogbomosho. She has also rendered professional services to the Federal Ministry of Education especially in the areas of training and development of nurses across the country. She has worked in collaboration with both WHO and UNICEF in the states of Edo, Kano and Kaduna..
She is a dynamic scholarand she has trained a generation of nurses and midwives. Her articles and book chapters are spread across several professional journals. She is a renowned contributor to the West African Journal of Nursing. She was honoured with an award by the National Association of Student Nurses and Midwives of Nigeria, OAUTHC Chapter in 2003.She was also honoured with the Woman of Merit Gold Award by PSR Magazine in 2012.
Mrs Awoseemo is a pastor of the Christ Way Ministry International. She holds a Certificate in Child Evangelism. Her marriage to Mr Taiwo Oluwafemi Awoseemo is blessed with two daughters namely Moyosoluwa and Oluwaseun.