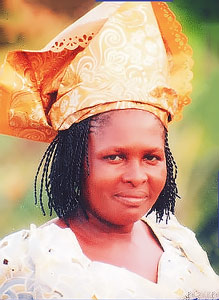 Evangelist (Mrs) Godgift Chinyere Duru is a woman of great resource. An enigma of sorts, she is an ordained religious minister, a school proprietor, an entrepreneur and an astute promoter of human development activities. She is the Founder and General Overseer of Faith Burden Bearers Outreach Ministry based in Kafanchan, Kaduna State.
This ministry has a subsidiary called Pastors' Training Institute. She is also the proprietress of Peace International Science Academy, Kafanchan. Aside from all these, she has business interests in transportation as well as distribution and sale of textile products and other fashion accessories.
Godgift  was born into the family of Elder and Mrs Fredrick Aforka of Ndiowu in Orumba North Local Government Area of Anambra State on May 29, 1962. She obtained the First School Leaving Certificate from Mbato Community School in 1975. An old girl of Awka Etiti Girls Secondary School, she holds the National Certificate in Education in Mathematics and Physics from Kaduna State College of Education, Kafanchan. She attended the University of Jos and graduated with a B.Sc in Mathematics in 1994. Having completed a PGDE Programme, she has her eyes focused on acquiring a master's degree .
Godgift Duru got the call into  Christian ministry in her youthful days. While at the University of Jos, she participated actively in the ministry of several Christian groups including the Chapel of Faith and Bible Goodnews. She was also a member of Place of Refuge Kaduna and Throneroom Trust Ministry, Kafanchan.
Evang. Godgift Duru taught at Government Girls Secondary School, Kafanchan. She was a mathematics teacher at Trust Model School Kaduna until 2001. She had worked at other public schools namely Government Girls Secondary, Zonkwa and Anglican Junior Seminary, Kafanchan before she established her own school.
As a renowned preacher of the gospel, she has used her ministry to bring succor to several indigent folks in the society in addition to bringing them to Christ. Her church runs a fellowship as well as a rehabilitation centre for the destitute and other people with disabilities. There is another arm which is involved in youth and children discipleship. The Covenant Sisters' Fellowship is exclusive to women. She also runs another fellowship namely Widows and Anna's Ministry which comes up on the third Sunday of every month. She uses the second Friday of every month to spread the gospel to hospitals and prisons. Most of these activities are accompanied with cash gifts to several indigent people.
She got married to Mr Christian Duru in 1983 and their union is blessed with seven children namely Ngozi, Udoka, Chioma, Amarachukwu, Miracle, Emeka and Chibuzo.
Her hobbies include praying, studying the Bible as well as engaging in evangelism.It was in recognition of her contribution to national development in the area of Christian Leadership that she  was conferred   with the Woman of Merit Gold Award by PSR Magazine in 2012.