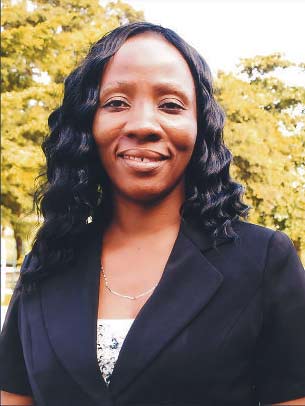 Hon. Pedetin Elizabeth Kappo is a dynamic young woman with a rising political profile. An endowed leader and mobilizer of people, she has positioned herself as one of the emerging personalities on the political terrain of Lagos State and by extension, Nigeria.
She was the Vice Chairman of Badagry Local Government Council of Lagos State where she also held the position of Supervisory Councillor for Education. Today,under the government of Mr Akinwunmi Ambode,the incumbent Governor of Lagos State, she has moved higher, having been appointed as Executive Secretary of the council.
Pedetin was born into the family of the late Pa Isaiah Ebunoluwa Kappo and Madam Marian Aroki Kappo of Dale-Whedakoh in Badagry Local Government Area on May 6, 1974. She had her first feel of formal education at L.A. Primary School, Topo-Dale where she passed out with the First School Leaving Certificate in 1986. Afterwards she attended Topo Grammar School, Topo-Badagry and left with the Senior Secondary Certificate in 1992.
She holds the Ordinary National Diploma in Banking and Finance from Lagos State Polytechnic, Isolo, as well as a B.Sc in Economics from Lagos State University, Ojo. Her leadership qualities came to the fore right from her school days when she was an active member of the Girls' Guide and equally represented the school in several debate and quiz competitions. She held important positions in several youth and social organizations. She had served as Treasurer at the diocesan level in her church.
Hon. Pedetin Kappo served as Zonal Secretary in the Alliance for Democracy(AD) for six years and pioneer Secretary of  Ward J for four years. A notable grass root mobilizer, she is a champion when it comes to staging  political campaigns and party rallies. She has worked as secretary to  several notable political organizations including the Ideal Club run by Senator Ganiu Olanrewaju Solomon, TAMTCO Campaign Group, SWESCO Campaign, OIL Group, HMD Network and the Hope  Foundation. She is also a member of the Badagry Market Board as well as Hope Foundation.
Kappo's people have indeed benefitted from her sojourn in politics. As the Supervisory Councillor for Education, she  catered for the educational needs of many indigent folks within and outside her constituency. She is known to have distributed free educational material including books, furniture and other learning aids to several pupils across Badagry Local Government Area. She has also instituted a football competition for youths of the area. She has built four classroom blocks in his community. According to her, she enjoys bringing smiles to the elderly as well as children and youths.
She is a proud winner of the Badagry Legend Award and also the PSR Woman of Merit Gold Award. Hon Pedetin Kappo enjoys travelling, watching television, watching football, meeting people and reading as pastimes. She is a mother who is blessed with a boy.
.