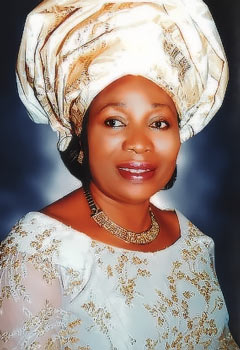 Mrs Arizunma Chinwe Madukwe is a distinguished pharmacist and an accomplished administrator. A  graduate of the prestigious National Institute for Policy and Strategic Studies, Kuru, Plateau State, she served Nigeria for over 30 years. Until her retirement in 2011, she was Director in the Registration and Regulatory Affairs Directorate of the National Agency for Food and Drug Administration and Control (NAFDAC).
Madukwe is particularly acknowledged as the woman who provided the structure for the conversion of the then Pharmacists Board of Nigeria to the current Pharmacists Council of Nigeria (PCN) in 1994. An enigmatic woman, she has remained active in retirement as the Managing Director of Boucia Limited which is a top notch pharmaceutical consulting firm.
An indigene of Imo State,she was  born on November 26, 1951. She obtained the first school leaving certificate with distinction grade from All Saints School, Egbu-Owerri in 1962. She left the prestigious Queen's School Enugu with a Grade I WASC result in 1971. She holds the Bachelor of Pharmacy (B. Pharm) degree from the University of Nigeria, Nsukka.
She had her internship programme at General Hospital Owerri and UBTH, Benin between 1997 and 1998. She did national service at Military Hospital, Benin between 1978 and 1979.
A woman of integrity and sound professional discipline, she earned several certifications and awards from notable pharmaceutical and health institutions across the globe. Way back in 1986, she earned a Certificate of Micro Computers for Drug Supply from MSH, Boston, U.S.A. The same institution awarded her the Certificate on Managing Drug Supply for Primary Health Care and Managing Sciences for Health. She is well-versed in Pharmaco-therapy and Management of HIV Infections. She  bagged a Certificate for Development, Scale- up and Production of Bio-pharmaceuticals from NIPER, India in 2005.
During her days in service, she played a prominent role in several training and workshops organized by NAFDAC and other related health institutions within and outside Nigeria. She inspected many food and drug quality control laboratories in India and China.  Her mandate was to ensure that these companies had quality systems and facilities fit for the exportation of food, drugs and other regulated products to Nigeria.
Mrs Arizunma Madukwe played a remarkable role in the fight against the manufacture, distribution and sale of fake and counterfeit drugs in Nigeria. Between 1997 and 2002, she was the Chairman of the Federal Task Force on Counterfeit and Fake Drugs.  Her tenure witnessed the arrest and prosecution of several fake drug barons. She ensured that most of these criminals were prosecuted and convicted through the relevant tribunals and law courts. Earlier in 1989, she served as a member of a four- man committee which, under the then Minister of Health, the late Prof. Olikoye Ransome-Kuti influenced the promulgation of the Fake and Counterfeit Drug Decree No. 17 of 1989.
Before she joined NAFDAC, she had held several distinguished positions in the Federal Ministry of Health which took her to several locations in Lagos and Abuja.
She belongs to many professional bodies including the Pharmaceutical Society of Nigeria, the Association of Lady Pharmacists of Nigeria and the National Association of Industrial Pharmacists.
She has won many honours and recognitions. As a student,she was on the Eastern Nigeria Government Scholarship as well as the East Central State Government Undergraduate Scholarship. She won the award of Most Hardworking Staff of the Establishment and Inspection Directorate of NAFDAC in 2006. Three years later, the Young Pharmacists Group of the Pharmaceutical Society of Nigeria (PSN) honoured her with the Platinum Mentor Award.She won the PSR Woman of Merit Gold Award in 2012.
Married to Chief B.C. Madukwe, she enjoys reading and gardening as hobbies.