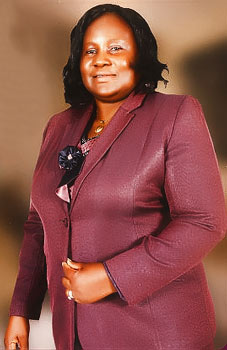 Mrs Gift Cornelius Timighe is a Chief Nursing Officer and the Officer- in-charge of the Customer Care (SERVICOM) Unit of the University of Port Harcourt Teaching Hospital, Port Harcourt. Her standing in the caring  profession is quite iconic. She has served the nation for over thirty years as a nursing educator, public health educator and an expert in accident and emergency nursing.
Born on May 4, 1965, Gift is an indigene of Koluama in Southern Ijaw Local Government Area of Bayelsa State. She is a product of State School I, Koluama and Government Secondary School  Akassa. She began her training in the nursing profession at Rivers State School of Nursing where she eventually obtained the qualification of Registered Nurse (RN) in 1989. She qualified as a Midwife (RM) having completed her training at the famous Holy Rosary School of Midwifery, Emekuku, Imo State in 1989.
She bagged the Diploma in Nursing from the University College Hospital Ibadan as well as a Bachelor of Education in Health Education from Rivers State College of Education in 1999 and 2002 respectively. A highly enterprising woman who would go to any length in search of knowledge, she enrolled at the University of Nigeria, Nsukka and graduated with the Master of Public Health (MPH) in 2009. Her other professional credentials include the St. John Ambulance Certificate and a Certificate in Injury Control and Emergency Medical Services. She was also trained at the National Orthopaedic Hospital, Igbobi, Lagos between 1993 and 1994.
Timighe was first employed at the University of Port Harcourt Teaching Hospital in 1990. However, she had worked in other health institutions including the Rivers State Health Management Board, Braithwaite Memorial Hospital, Port Harcourt and General Hospital, Yenagoa, Bayelsa State. She got to her current position through a dint of dedication and sheer tenacity of purpose. Most of her colleagues and associates say that she is a workaholic and a Trojan on the field.
She has served and is still serving as external examiner at several institutions including the University of Benin Teaching Hospital; the School of Nursing, Nnewi, Anambra State; the School of Nursing, Tombia, Bayelsa State: the School of Nursing, Ikot Ekpe, Akwa Ibom State; the School of Nursing, Aba, Abia State and the School of Nursing, Port Harcourt. She has participated in several seminars and workshops. In 2009, she attended a course on Accident & Emergency Nursing at UBTH, Benin City and another on Injection Safety Training at UPTH, Port Harcourt. In 2012 she was in Abuja where she participated in the Service Delivery Evaluation (Servicom Index) Workshop.
She belongs to several professional organisations including the Nursing and Midwifery Council of Nigeria, the Forum of Federal Health institution Nurses and Midwives, the St. John Ambulance Organisation, the National Association of Emergency Nurses, the National Association of Nurse Educators and the Nigeria Association of Health Education Teachers. She won the award of Best Clinical/Nurse Educator of the Rivers State School of Nursing, Port Harcourt in 2005..In 2012, she received the PSR Woman of Merit Gold Award.
Mrs Timighe renders voluntary professional services to members of The Divine Touch Mission run by her husband, Pastor Cornelius Dickson Timighe. She is a mother of three children..
.