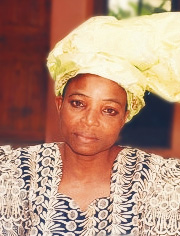 Mrs Justina Ngozi Ekpu is a seasoned educationist and school proprietress. She is the Co-Founder and Proprietress of Anointed Children School and Anointed Gate High School which are both located in Egan, Lagos.
Justina Ekpu was born on May 3, 1957 into the family of Mr and Mrs Makanwa Mordi of Idumu-Ileje, Umunede in Ika North East Local Government Area of Delta State. She attended the then Pilgrim Baptist (now Ijehon) Primary School, Umunede where she obtained the first school leaving certificate in 1971. She obtained the Teachers' Grade II Certificate from Teachers' Training College (Martin College) Issele-Uku in 1976. This qualification enabled her to work as a teacher at Obaigbena Primary School, Owa Oyibu, Delta State until 1979 when she joined her husband, Pastor S.D. Ekpu in Lagos.
The desire to attain the best of training in the teaching profession made her to enroll at the University of Lagos, where she bagged an Associate Diploma in Education in 1985. She holds the National Certificate in Education (NCE) and a Bachelor in Education (B.Ed) from the then Lagos State College of Education (now Adeniran Ogunsanya College of Education) Oto-Ijanikin, Lagos State and the Lagos State University, Ojo respectively. She earned the M.Ed in Curriculum Studies from the University of Lagos in 2003.
She worked in the Lagos State Teaching Service before she ventured into private proprietorship. She served in several schools including Ajeromi Central School, Araromi, Faronbi Primary School, Isolo, St Thomas Aquinas Primary School, Surulere, Ire Akari Estate Model Primary School, Isolo and Gbeleyi Primary School. Isolo. She was the Head Teacher of New State Primary School, Oshodi until 2002 when she voluntarily retired from public service.
The joint effort of herself and her husband resulted in the establishment of Anointed Children School in 2003 and Anointed Gate High School in 2008. Thankfully, the schools have continued to produce well- trained pupils and students and have become prominent among private schools in Lagos.
Mrs Justina Ekpu  is a devout Christian. She is very committed to church activities and this has rubbed off on her immediate family. Aside from the fact that all her six children are university graduates, four of them are ordained pastors. She is married to Pastor S.D. Ekpu.Her hobbies include reading and participation in philanthropic activities.Mrs Ekpu was honoured with the PSR Woman of Merit Gold Award in 2012.