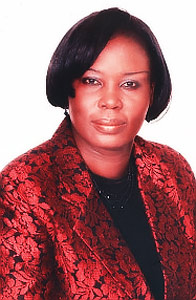 Pastor Oluwatoyin Oyenike Etim-Bassey is a pastor, author, motivator, publisher, teacher and preacher of the Word of God. She was born into the Baptist family of Elder Jacob Fakeye, a retired teacher and Deaconess Comfort Fakeye (JP), a retired Chief Superintendent of the Nigeria Police, on September 1, 1969 in Abeokuta, Ogun State. She is the third child of her parents and the first female.
She attended Imo Methodist Primary School, Oke Yeke, Isabo, Abeokuta and then, Ijeja High School (now Gateway Secondary School), Abeokuta from 1980 to 1985. As a pioneer student of Ijeja High School, she won several prizes both at state and national levels. Particularly, she won the 1st Essay Prize in an essay competition organized by Rotary Club among secondary schools in Ogun State in 1985.
In 1986, she gained admission into the Federal Polytechnic, Ilaro where she studied Business Administration for both National and Higher National Diploma between 1986 and 1991. She did her National Service in Katsina State in 1992. Between 1992 and 1994, she worked in the Accounts Department of Midland Galvanizing Products Ltd as an Account Supervisor. After her resignation, she went into private business. In 1993, she got married to Pastor Asukwo Etim Bassey, the Senior Pastor of Lighthouse Bible Church, Abeokuta. The marriage is blessed with two children.
Mrs Oluwatoyin Etim-Bassey gave her life to Christ in 1982 at a tender age. Her encounter as a young believer helped her to form moral values for living that saw her through her spinster period. She learnt early to build her foundation in the word of God. For Pastor Toyin, Christianity is an adventure and a way of life. Coupled with her inquisitive nature and passion to know the word of God,she developed a deep interest for the things of God. While on campus, she was very active in many groups in the school's fellowship and also served as the Welfare Secretary of the Christian Union Fellowship.
She pioneered the formation of hostel fellowships while on campus (Otunba Fadeke Hostel, Ilaro).She devoted her one year of NYSC to prison ministry and school fellowship at Women Teachers College, Kastina where she did her service.She was also engaged in village outreaches, apart from her leadership role in the Nigeria Christian Corpers Fellowship as the Editor- in- Chief/Publicity Secretary/Librarian.
She took a step further in her educational career in 2004, when she obtained a Master's Degree in Business Administration (Agric.Business) from the University of Agriculture (UNAAB). Since her call into the ministry, she has dedicated her entire life to making impact through the grace of God she has received. She has  a great passion for the abused, rejected and those who hurt. She loves to see every believer, especially women, take their places in destiny and fulfill God's purpose.
Pastor Oluwatoyin Oyenike Etim-Bassey serves supportively with her husband in pastoring Lighthouse Bible Church Abeokuta. She is also the Visioner of Light Aglow Women's Ministry, an arm of the church. It is a non-denominational ministry which God birthed through her in 2002 and which kicked off with the publication of Aglow Magazine, a Christian Women's magazine published quarterly by the ministry. The mission of the ministry is to ignite the passion for God and His kingdom everywhere.It is also committed to raising women who will not hold on to their pasts, and thereby denying their future.
In 2004, the vision moved to another phase with the introduction of Conference Ministry–an annual event where women in ministry, ministers' wives and women in various categories, whether singe, married, widowed or divorced gather to be impacted. The Annual Fruitfulness Seminar is a vision borne out of the need for every man and woman to discover their gifts and talents, develop skills and maximize their use in order to actualize their God-given dreams.
Bringing out the best of every woman is one key vision and passion of the ministry Pastor Nike Etim-Bassey runs. A Development Centre for Women was also opened in 2007 for women to be empowered and trained in various vocational programmes. So far, the centre has trained women in computer operation, hat and bead making, customer care and beauty care. The main goal of this arm of the ministry is to restore, revive and renew wounded and broken-hearted women in order to help them live  normal and fulfilling lives again. Other goals include helping the women to be self-reliant and sufficient through vocational training, specialized skills and handiwork. The ministry helps women to develop good self image and restore such to those who have been abused. Also, the mission helps to nurture healthy relationships through networking with other bodies and agencies, and also imparting leadership skills into women for effective management.
Pastor Nike, also a missionary to the nations, has by the grace of God, along with a ministry team (of women) successfully planned and organized women's conferences in Germany with women from different nations identifying with the vision. The Pentecostal Women's Movement Inc. , an inter-denominational body of Women in Bremen, Germany (visioner, Pastor Agnes Auerbach) was inaugurated by Pastor Nike Etim-Bassey and she is also the Matron of the Movement. By the grace of God, Pastor Nike provides a mentoring cover for some women in ministry both in Germany and the UK.
She has been to many cities in  Germany, Austria and the United States of America preaching the word of God. She is a regular minister at women conferences, seminars and churches both in Nigeria and other nations. Her passion for women, especially those with broken pasts, her desire to see every one who comes her way to be well informed about God, discover their gifts and make impact have formed the core passion of her ministry Testimonies abound to the glory of God, of miraculous healing, deliverance, salvation, restored relationships, waiting mothers giving birth to children, imparting women to impart others in Pastor Nike's ministry. She has a passion for studying, praying, singing and writing. She teaches the word of God with prophetic insights.
Pastor Nike is not always comfortable with mediocrity as she has great hunger for knowledge and sound wisdom. She has authored three books in addition to being the publisher of Aglow Magazine. Pastor Nike loves and maintains simplicity. She is a woman of vision, passion and focus. She has a passion for and is devoted to raising a generation of women well-fit emotionally, spiritually, mentally and physically to impact their environment positively.
In 2012, Pastor Nike began to convene the Women in Leadership (WIL) Conference, a forum for women leaders in ministry to sharpen and shape their visions in order to become more impactful and effective as leaders. Echoes of Mercy, her newly birthed charity arm of the ministry, has reached out to orphans in Dakar, Senegal and India.
Pastor Mrs Oluwatoyin Oyenike Etim-Bassey won the PSR Woman of Merit Gold Award in 2012. It was in acknowledgment of her contribution to national development in the area of Christian leadership.