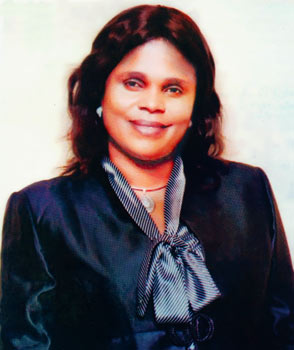 Mrs. Hyacinthia Urunwa Ezugwu is one woman who has made sterling contributions to judicial service in Enugu State and by extension, Nigeria. She currently serves as Chief Magistrate in the Enugu State Judiciary. A few years ago,she was Presiding Magistrate at the Environmental Protection Court of Enugu Metropolis. She has proven herself to be highly efficient and upwardly productive.
An indigene of Ovoko in Igbo Eze South Local Government Area of Enugu State, she was born in Nsukka on May 14, 1972. Hyacinthia attended Township Primary School and Urban Girls' Secondary School both in Nsukka. She bagged the Bachelor of Laws (LLB) degree from the University of Nigeria, Enugu Campus (UNEC) in 1997. She attended the Nigeria Law School, Bwari, Abuja and was eventually called to the Nigerian Bar on September 28, 1999. She also holds a Master's in Law (LLM) from the University of Nigeria and is currently studying for a Doctorate in the same discipline.
She joined the public service of Enugu State as Administrative Officer II at Enugu South Local Government in 1997. She was promoted to the rank of Administrative Officer I in 2003, and by 2008, she had become a Senior Administrative Officer. She was a Solicitor/Advocate in the law firm of K.O. Anyaegbunam & Co. between 1999 and 2008. She worked as Chief Magistrate II between 2008 and 2012. She got to her current rank of Chief Magistrate I in July 2012.
As a dedicated and hardworking public servant, she has held several  positions in the course of her career. She was Secretary to the Committee on the Relocation of the Building Materials Market, Enugu in 2008. She served in Enugu South Local Government variously as Secretary, Junior Staff Management Committee (2000 – 2008); Litigation Officer (2000 – 2008) and Clerk of the Legislative Council, (2003 – 2008). She was Secretary to the Security Council meetings between 1997 and 2008.
Mrs. Hyacinthia Ezugwu was appointed to be one of the magistrates who participated in the moot and mock court trial at the Nigerian Law School Agbani, Enugu in 2012 and 2013. She was a Presiding Magostrate at the Environmental Protection Court, 9th Mile, Enugu between 2010 and 2014.
She has attended several conferences, seminars and workshops. She attended the Magistrates Conference titled "Career Magistrate – the Way Forward" which held in Lagos in 2013. She was also at the "Intensive Course In Alternative Dispute Resolution" which held at the National Institute of Advanced Legal Studies, Lagos in 2014.
A dutiful wife and proud mother of five children, Mrs. Ezugwu is a lover of gymnastics and football. She does reading and writing in her leisure time.
It was in recognition of her contribution to national development in the area of Judicial Service that she was conferred with the Woman of Merit Gold Award in 2014 by PSR Magazine.