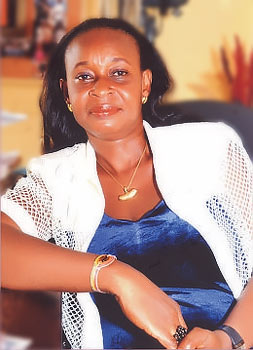 Pastor (Mrs) Cecilia Chiawuotu Okachi is a distinguished daughter of Nigeria.  She is at once an accomplished educationist, actress, broadcast journalist, philanthropist and religious minister.
She is the Founder and Proprietress of Simmic Schools, which is based in Lagos State. She has done a lot of charity work through the Global Revival Gospel Ministry. She is the Founder of Women Empowerment and Motivation Centre, which is a non-government organization with the objective of imparting the skills of home management and wealth creation to women and  indigent people in the society.
Born on March 11, 1965, Cecilia Okachi comes from Imo State but is married to Pastor Mike Enegi Okachi who is from Ogoja in Cross River State. Despite her humble family background, she attended the famous St. Georges Primary School, Falomo, Lagos. She had her secondary school education at Aunty Ayo Girls Comprehensive School. Keffi, Lagos.
She was trained in the art of broadcast journalism in Jos. She holds a Diploma in Catering from Davog School of Catering as well as a Grade II Certificate in Education from the National Teachers Institute (NTI). She also studied and earned the National Certificate in Education (NCE) from Adeniran Ogunsanya College of Education, Lagos. She went on to enroll at the  Lagos State University and graduated with a Bachelor of  Education (B.Ed) degree..
Having started out as a broadcast journalist, she participated in and scripted  many stage and television productions. She represented Lagos State at the second Festival for Arts and Culture in Port Harcourt in 1982. She also had a stint with the world of modelling and products promotion.
The administrative savvy of this great Amazon of our time is no doubt the brain behind the success story of Simmic Schools. Like the proverbial mustard seed, the school has blossomed into a full-fledged educational institution with high pedigree and an array of facilities as well as a crop of highly qualified academic and non-academic staff. Products of the school are known to have excelled in several areas of academic and extra curricular activities. Simmic which was established about 15 years ago won the award for Best Arts Student at the Urban Blitz Communication and Consult Competition which was aired on NTA.
A renowned counsellor on marriage and matrimonial affairs, she has helped to bring stability to several estranged relationships and helped in mending many broken and marriages. She is mother to over 100 less privileged young people. According to her, she draws inspiration from the lives and times of several personalities including Lady Francesca Emmanuel, the first woman Permanent Secretary in Nigeria; Mr Adeniyi Jacob, an acclaimed banker; Madam Stella Maris and Mrs Beatrice Buwa, an acclaimed educationist.
She has won several awards and honours including Alimosho Times Outstanding Personality of the Decade; Outstanding Woman of Distinction by Women Empowerment Gender and Equity Centre (WEGEC); Yeye Oge of Abaranje by National Association of Hairdressers and Cosmetologists; Bournvita Women's Award by Cadbury Nigeria Plc; Afa Eji Ejemba by Odoziobodo Women Association, Umuoba Uratta, Owerri and Odiuko Namba by Odoziobodo Women Association, Okwu Uratta, Owerri. She won the Woman Of Merit Gold Award by PSR Magazine in 2012.
Her marriage to Pastor Mike Okachi who is the President of Global Revival Gospel Ministry is blessed with two boys.