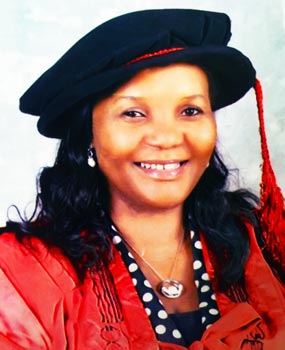 Dr (Mrs.) Linda Okoye is a woman of class.  She is both an outstanding scholar and a thorough-bred professional. A dental surgeon of the first order, she has contributed a lot to the development of dental practice in Nigeria.
At the University of Nigeria Nsukka, she holds the record of being the first alumnus Dean of the Faculty of Dentistry. She brought the faculty to limelight by securing its full accreditation by the Nigerian Medical and Dental Council after 29 years of non-recognition. She is also the Medical Director of Dentslyn Dental Clinic which is based in Enugu.
Linda was born on February 21, 1968 into the royal family of the late Chief Stephen and Ezinne Ijeoma Ilonzeh of Abagana in Njikoka Local Government Area of Anambra State. She had her primary and secondary school education at Zik's Avenue Primary School, Uwani Enugu and Federal Government College, Port Harcourt respectively. She studied at the University of Nigeria Nsukka, where she qualified as a Dental Surgeon in 1990.
Having earned the qualification of Consultant Dental Surgeon in 2005, she was employed by the University of Nigeria and was subsequently posted to the institution's teaching hospital (UNTH) as Lecturer and Restorative Dental Consultant. She rose to the rank of Dean of the Faculty of Dentistry in 2011.
She has recorded a lot of astonishing achievements in both teaching and administrative capacities (some of which have been highlighted earlier). She established the state of the art Phantom Heads Laboratory, the Prothetic Laboratory and the Advanced Operative Technique Laboratory. She attracted collaboration programmes between the UNN Faculty of Dentistry and the University of British Columbia in Canada as well as the Georgia State Health Sciences University, U.S.A. These arrangements come with the full benefits of book donations as well as student and staff exchange programmes.
Dr. Okoye graduated the first three sets of dental surgeons who did not need to write the external qualifying examinations of the Medical & Dental Council. She has published numerous articles on Oral Health and Dentistry in general.
Outside of the walls of the university community, she has been very active. She is the founder of Battle Axe Women Fellowship International (BAWFI) which is a non-government and interdenominational organization which promotes activities aimed at building and raising women to be instruments of change and positive influence in society. In her own little way, she has supported and empowered many widows and indigent people in Enugu Staate.
Quite naturally, she has won many awards and recognition from within and outside Nigeria including the International Association for Dental Research/Colgate Research in Prevention Award in 2009 in Miami, Florida, USA; the Stone Mountain Church Award of Excellence in 2009 in Atlanta, USA; the Institute of Industrial Administration of Nigeria Medical Excellence Award in 2009 in Enugu, Nigeria; the European Association for Caries Research Award in 2010 in Montpellier, France; the African Award of Excellence in Leadership in 2013 in Abuja, Nigeria; the International College of Dentists Fellowship Award in 2014, the Hope for the Poor and Needy Merit Award in 2008 in Enugu and the PSR Woman of Merit Gold Award in 2014.
Linda is married to Pastor Emeka Okoye who is fondly called "The Oracle of God" and an indigene of Ifite Ogbunike in Oyi Local Government Area of Anambra State. Their union is blessed with five lovely children.