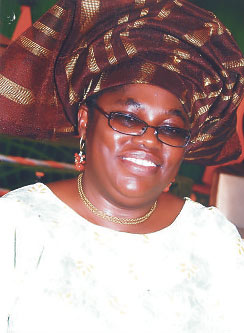 She is a chartered accountant and the chief executive of a flourishing printing press. However, Adetoun Ayodele Olayemi is better known as a pastor of the vibrant Ever Increasing Anointing Ministries which is based in Lagos. Indeed, she is  both a trustee and the General Secretary of the church organization.
Born on May 18, 1959, Pastor Adetoun Olayemi's parents are Mr David and Mrs Matilda Tejumade Sokoya of Sagamu in Ijebu Remo Division of Ogun State. However, her husband, Pastor Taiye Emmanuel Olayemi hails from Aiyetoro Gbede in Kogi State.
She attended St Judes Primary School, Ebute Metta, Lagos; Girls Secondary Grammar School, Bariga, Lagos, Tutorial College, Tottenham Square, England; West London College, Barons Court, London; Newcastle UponTyne Polytechnic, Newcastle, England.
Having returned to Nigeria, she enrolled at the Institute of Chartered Accountants of Nigeria where she qualified as an Associate Member in 1988 and eventually bagged the Fellowship of the accounting institution in 1998.This was after her training in the firm of Balogun Ayanfalu Badejo & Co. now known as Balogun, Badejo & Co. (BDO).  She also graduated from the Word of Faith Bible Institute in 1996.
Pastor Adetoun Olayemi worked at the then Unipetrol Nigeria Plc between 1985 and 2005. During this period, she held very challenging positions including those of Credit Control Accountant, Financial Accountant, Branch Accountant, Budget and Control Manager, Planning Manager as well as Head of Audit Department. She also worked at Lever Brothers Nigeria Limited. A highly resourceful woman who is blessed with business acumen, she established Deprecious Press Limited in 2002 and has been its Managing Director to date. She is also the Managing Partner of Adetoun Ayodele Olayemi & Co. which is a firm of chartered accountants.
According to her, she gave her life to Christ and was baptized way back in July 1988 at a church service organized by Pastor Chris Okotie of the Household of God Church, Ikeja. Today, she has grown to become a powerful preacher of the gospel and an ordained pastor. She is indeed a pillar of support to her husband who is the General Overseer of the Ever Increasing Anointing Ministries. She is in charge of several strategic departments of the church including the ones for children and teenagers, men and youths, as well as the marriage committee.
As a trained professional, she personally supervises the administration of the ministry and also makes sure that the accounting records are in order. She has also played a significant role in the grooming of several pastors and members of the clergy. Some of the people she has mentored include Pastor (Mrs) Folashade Afolabi and Pastor (Mrs) Adenike Adebisi. She has contributed in taking the activities of her church to almost all the states in Nigeria. She has equally preached the gospel in several foreign countries including England, Scotland, France, Italy, U.S.A. and South Africa.
All these aside, the most fascinating side of Pastor Adetoun Olayemi's personality is her incurable penchant for philanthropy. She runs a scheme namely Daughters of Sarah, where women are trained in the rudiments of home making and management as well as how to be submissive to their husbands. The youths are trained on several skills and how to be enterprising and self reliant. She has personally defrayed the printing costs of several writers who were hitherto hampered by funds to publish their books. Her various business outfits have provided employment to several widows, widowers and orphans.
A lover of evangelism and religious adventure, she and her husband are blessed with one child named Anthonia.
It was in recognition of her contribution to national development in the sphere of Christian Leadership that Pastor (Mrs) Adetoun Ayodele Olayemi was conferred with The Woman of Merit Gold Award by PSR Magazine in 2012.