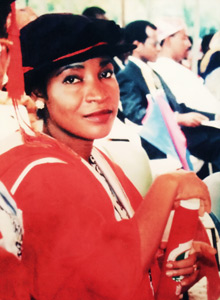 Dr. (Mrs.) Favour Onyinye Chukwuka holds a string of firsts in her profession. She is the first female ophthalmologist (eye surgeon/eye specialist) from Rivers State. Again, she is the first female medical doctor not only from her village of Okposi but her entire local government area (ONELGA). She has set her sight on becoming the first professor of ophthalmology from Rivers State.
This brilliant physician was for several years the Head of Department of Ophthalmology at the University of Port-Harcourt Teaching Hospital. She became the Head of Department in 1999. She was also project manager of the ophthalmology revolving fund set up by the management of the hospital.
In spite of her busy schedule as Consultant Ophthalmogist, Dr Favour Chukwuka is actively involved in teaching both medical students and resident doctors specializing in ophthalmology at the University of Port Harcourt.
She was born on January 5, 1959 to the family of Mr. Christopher Wokocha, a laboratory scientist who later became the Ochonduosa I of Ogbaland and Mrs. Sabina Wokocha who did her nursing training in England. Both parents worked in the Rivers State Ministry of Health as health care practitioners.
She grew up as an only child and from an early age was struck by her father's peaceful disposition and compassion for people who needed help. According to Dr Favour Chukwuka, her father lived a simple life without some of the trappings of success that he could easily afford. He also reached out to help as many people as he could from the large polygamous family he came from. He repeatedly encouraged her to purse an education, citing women who had made their marks in various fields of endeavour.
She had her primary school education at Corona School, Yaba, Lagos between 1963 and 1969. She also attended Holy Rosary Secondary School, Port Harcourt from 1970 to 1974. She obtained her Higher School Certificate ("A" levels) from College of Science & Technology, Port Harcourt in 1976. Thereafter she proceeded to the College of Medicine of the University of Lagos, where she bagged her MBBS degree in 1982.
She did her housemanship at the General Hospital, Port Harcourt between 1982 and 1983. Dr Favour Chukwuka did her National Service in Jos, Plateau State. Her primary assignment was at the Maternal and Child Welfare Clinic, Jos from 1983 to 1984. She worked as a paediatrician at the clinic. After her national service, she moved to Ahmadu Bello University Teaching Hospital (ABUTH), Kaduna where she commenced her residency (specialist training) in ophthalmology. However, this training was completed at the University of Nigeria Teaching Hospital (U.N.T.H), Enugu in 1992.
She is a Fellow of the National Post-graduate Medical College of Nigeria. In 1995, she returned to Port Harcourt as a lecturer in the College of Health Sciences of the University of Port Harcourt. She was appointed Consultant Ophthalmologist of the University of Port Harcourt Teaching Hospital (UPTH) in 1996.
Favour Chukwuka is a good listener. She is unassuming, good natured and sincere in her dealings with people. She was the best all round student in the class of 1974 at Holy Rosary Secondary School and the only one who studied medicine from her class. She has a philosophical attitude to her profession. She does not see her medical career as an opportunity for the acquisition of wealth but as an avenue to serve the people within her community and the nation.
She is a born again Christian and is happily married to Mr. Daniel Ugochukwu Chukwuka, an Enugu- based businessman. They are blessed with two lovely children.
She was named the best junior athlete in her first year in secondary school. She played volleyball for her hostel while in the university. She danced with the Hausa cultural group during her national service.She loves languages and speaks three Nigerian ones namely English, Igbo and Ogba (her mother tongue) fluently. She also speaks a bit of Yoruba and Hausa.She loves watching educational movies and listening to Christian music.In 2006,she won the PSR Woman of Merit Gold Award which was in recognition of her contribution to national development in the field of Human Medicine.