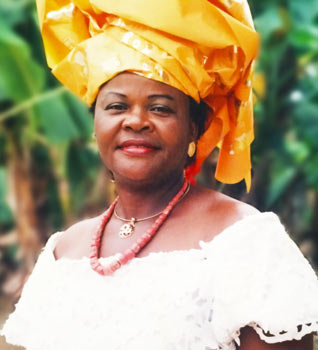 Mrs. Sundayba Prince-Dateme is a professional teacher who has put  several years of service and experience into the noble profession.However, she is also a woman of many parts who has distinguished herself in many areas of endeavour .She is at once a teacher, school administrator,politician,women empowerment advocate and community leader.
Born on August 20, 1960, Sundayba who hails from Buguma attended the Municipal Council School, Port Harcourt between 1968 and 1973. She was at the Kalabari Girls High School, Buguma between 1974 and 1979 where she obtained Grade II in the West African School Certificate Examination. She obtained a Bachelor of Arts (Honours) in English from the University of Port Harcourt (UNIPORT) in 1988. She is currently pursuing a Postgraduate diploma in education.
On obtaining the WASC, Mrs. Sundayba T. Prince-Dateme secured a job with the Electricity and Water Supply, Buguma between 1980 and 1984. After completing her studies at UNIPORT, she served as a teacher during her national service from 1989 to 1990. Between 1990 and 1995, she was Master Grade II at Kabalari National College. Afterwards, she worked in various secondary schools in Rivers State between 1995 and 2005. She attained the position of Vice Principal in 2005.
Mrs Prince-D served as Caretaker Committee Chairman Ward 5, ASALGA in the defunct Social Democratic Party. She worked at Kalabari National College, Buguma from 1990 to 1995. She was a Guidance Counsellor at CSS Ido, ASALGA from 1996 to 2002 and Head of Department of Languages, CSS Ido (1996-2004). She served as Chairman, Political Sensitization Committee for Women under the umbrella of National Council for Women Societies (NCWS), ASALGA. She was a member of the organizing Committee, NCWS 5th Biennial in Rivers State in 1998. She served as a member of the 2006 National Census Population Publicity Committee.
Being an active member of the NCWS, Mrs. Sundayba Prince-Dateme was First Assistant Secretary NCWS, ASALGA in 1995 and Secretary of the association in 1998. She became President of the NCWS, ASALGA in 2001. She served as Assistant Secretary, Better Life for  Rural Women, ASALGA (1990-1992). She is a member, Friends in Health Committee, Buguma General Hospital; member, Rivers State Branch of Better Life for Rural Women since 2004. She was member, Anglican Church Women's Guild in 2002 and President, Ikiri Iriawo Society since 2001. Mrs. Sundayba T. Prince-Dateme has been a member of Ombo-Birina Omoni Ladies Forum since 2005.
She is a member of the Nigerian Union of Teachers and member, Association of Secondary Schools' Vice Principals, Rivers State. She is National Treasurer, Buguma International Affairs Society and Treasurer, C.D.C. Buguma. She has attended several workshops, seminars and conventions of the National Council for Women Societies. Some of the workshops include NCWS seminar on Political Success Programme for Women Politicians held in Lagos in 1991. She was at the NCWS National Workshop on Poverty Alleviation Programme and  Nigerian Women held in Abuja in 2000. She also participated in the International Workshop on Health Issues of Women and their Effects on Families held in Abuja in 2000.
It was in acknowledgement of her contribution to national development in the field of Education that Mrs. Sundayba T. Prince-Dateme was conferred with the PSR Woman of Merit Gold Award in 2006.
Her hobbies are listening to music, dancing, singing, cooking, reading and community work. She is a Jerusalem Pilgrim having visited Israel on holy pilgrimage in 2002. Sundayba Prince-Dateme is married with children.