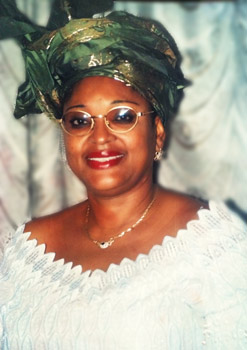 Mrs. Anne Iroghama Bazuaye is the Proprietress of New Era Model Schools based in Warri, Delta State. She has great passion for excellence and hard work . She is one woman who has made strong,tangible and positive contributions to the growth of education in Nigeria. The New Era Model School is indeed a model. It is on the front row of schools in Delta State.
She was born on December 9, 1956 in Benin City. She comes from  Oredo Local Government Area of Edo State. Anne had her early education at St. Angela's Catholic Girls School and she earned her First School Leaving Certificate in 1968. She attended St. Maria Goretti Girls Grammar School,Benin City from 1969 to 1974. She obtained her West African School Certificate from the Institute of Continuing Education in 1975.
She proceeded to Imaguero College, also in Benin City, where she obtained a Teachers' Grade II Certificate in 1977. She obtained her National Certificate in Education from the College of Education, Abraka in 1981.
Mrs. Bazuaye holds a Bachelor of Education degree in History from the University of Benin. She bagged a Master of Education (Administration) from Delta State University, Abraka in 1998.A determined scholar, Mrs. Anne Bazuaye has gone on to earn a doctorate degree from Delta State University.
She has authored books on pre-primary and primary curricula. Her books are being used in schools across the country. She was appointed an Examination Marshal for Delta State in a bid to stem the rising menace of examination malpractices
A committed teacher and counsellor, she started her teaching career in 1975 when she served with the Primary Education Board for three years. She was with the Ministry of Education, Benin City during her National Youth Service. Anne worked as a teacher with the Post-Primary Education Board, Edo State from 1982 to 1994. She retired voluntarily and subsequently established a private school named New Era Model Schools in Effurun in 1994. This school operates nursery, primary and secondary arms. She awards scholarships to brilliant and deserving students in her school.
She has written and presented several papers at conferences and seminars. She belongs to different educational associations and was  Vice President of the Association of Private School Owners of Nigeria, Delta State Chapter. In acknowledgment of her contribution to national development in the field of education, Mrs Anne Bazuaye was conferred with the PSR Woman of Merit Gold Award in 2006.
As a devoted member of the Catholic Communion, she has headed different groups in the church. She has served as President, Ladies of St. Mulumba Nigeria, Warri Sub-council (2000-2006); President, Ladies of St. Mulumba Nigeria, Effurun Sub-council since 2006; Instructor, Billings Method of Family Planning since 1997; Treasurer, Association of Sacred Heart of Jesus and Immaculate Heart of Mary, Mother of the Redeemer Catholic Church, Effurun, Delta State.
She is also a marriage instructor who has counselled many couples and helped to restore marriages that were at the brink of collapse. Mrs. Anne Bazuaye is happily married with five children and her hobbies are travelling, reading, cooking and gardening (horticulture).I