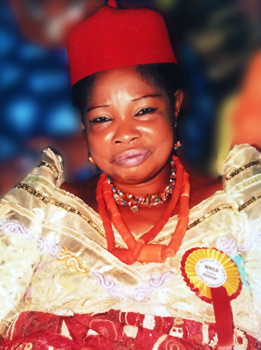 Chief (Mrs.) Charity Chibunma Colar was born on December 31, 1956 into the family of Chief and Mrs. Philip Onuzuruike of Umuopara, Umuahia, Abia State. Her husband comes from Rivers State. She had her early education at Saint Peter's School Ekenobizi, Umuopara, Umuahia. Unfortunately, her secondary education was interrupted by the outbreak of the Nigerian Civil War.
Chief (Mrs.) Colar is an epitome of genorosity, peace and forthrightness. She is well loved by the people of her community. They look up to her as a beacon of hope and qualitative leadership. She has a pet project based in her home town of Obor in Rivers State which caters for the needs of widows and indigent people. She has encouraged and supported her husband to provide several amenities to the community. Some of these include the provision pf mono pumps and the electrification of the entire community
This woman is a rare breed of a leader. She is a strong motivator of the women of her community. She is a patron to several women organisations across the community. Charity Colar holds the traditional title of Odozi-Aku I of Oborland. She was recently honoured with the traditional chieftaincy title of Odozi-Aku I by His Royal Highness, Eze (Dr.) A.N. Osho, the Eze Ali Usomini of Ogbaland. She was conferred with the PSR Woman of Merit Gold Award in 2006.
Chief (Mrs.) Charity Colar is a God fearing woman. She is a lover of Christian activities and promotes several programmes carried out by several ministers of the gospel. She is married to Chief Benedict Orukwowu Colar. Their union is blessed with children.