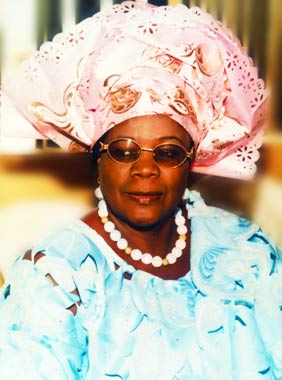 Mrs. Parmata Ishaya is a highly resourceful woman. She has served her state, her country and humanity to the best of her ability. Whether as a classroom teacher, a school administrator, a bureaucrat, a church leader or a women empowerment advocate, she has been effective, committed and faithful.
Mrs. Ishaya  rose to become the Permanent Secretary of the Adamawa State Independent Electoral Commission.Before that, she was Permanent Secretary of the Adamawa State Ministry of Women Affairs. She once occupied the position of State President of the National Council of Women's Societies, Adamawa State.
Born on January 12, 1948 at Lassa in Yola North Local Government Area of Adamawa State, she had her early education first at Lassa and then Girls Primary School, Waka.  She thereafter attended Queen Elizabeth School, where she obtained her West African School Certificate in 1966 and afterwards, a Higher School Certificate.
Parmata enrolled at the Ahmadu Bello University, Zaria in 1969 and obtained a B.Sc degree in Botany in 1973. She earned  a Postgraduate Diploma in Education from the same university. Much later, she studied for a Masters' degree at the Federal University of Technology, Yola.
Mrs. Parmata Ishaya's working career dates back to 1973 when she taught at Cornelia Connelly College, Uyo as a Youth Corps member. After her youth service, she was employed to teach at Government Girls Secondary School, Yola in 1974. She was Principal, Government Girls Secondary School, Girei from 1979 to 1983. In 1983, Parmata was transferred to Women Teacher's College, Numan. She was the school's Principal until 1986 when she was made an Assistant Director, Science, Technical and Vocational Education at the Post Primary Schools Management Board, Yola. She served as Deputy Director from 1988 to 1990.
On humanitarian grounds, Mrs. Ishaya proceeded on leave without pay to Sierra Leone in 1990 to help women and refugees from Liberia in collaboration with the Evangelical Lutheran Church (ELCSL). She worked on that programme for four years.
On her return from Sierra Leone, she resumed as Assistant Director (Post Primary Directorate) with the Ministry of Education, Yola –a post she held between 1996 and 2001. From 2002 to 2003, she was at the Local Government Service Commission where she occupied the position of Deputy Permanent Secretary. Mrs. Ishaya was the Permanent Secretary, Ministry for Women Affairs and Social Development, Yola until July 2005 when she was transferred to Adamawa State Independent Electorate Commission.
Mrs. Parmata Ishaya has attended various national and international seminars, conferences, meetings and consultations. She has also been involved in several initiatives aimed at empowering women socially, economically and politically in Africa and the world. She has attended seminars to promote inter-religious peace and harmony in the world.
She has participated in various meetings with the Lutheran World Federation Council in different countries. She was a member of the Lutheran World Federation delegation that visited the PLO Leader, Yasser Arafat and the Israeli President on the position of Augusta Victoria Hospital on Mount Olives in 2002.
She has won several awards and honors including the Award for Women Empowerment by the National Association of Nigerian Students, Adamawa Chapter (2003); Woman of Honour Award by Dr. Bolere Elizabeth Ketebu-Nwokeafor (JP), National President, National Council of Women Societies Nigeria and Award for Women Empowerment 2005 by the National Youth Council of Nigeria, Adamawa State Chapter.She is also a recipient of the PSR Woman of Merit Gold Award.
She has seen much of the world outside Nigeria. Her hobbies are gardening, rearing animals, reading, music, travelling and working with women and children.Mrs. Parmata Ishaya is happily married with four children.