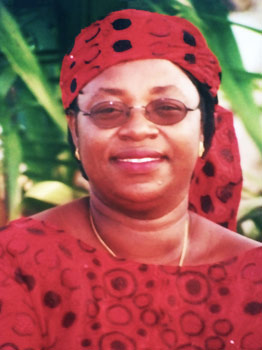 Dr (Mrs.) Patricia Delsat Wade is a distinguished physician and academic.These several years, she has done quite a lot in the sphere of medical education. She teaches at the University of Jos where she has held various positions of responsibility including as Head, Department of Ophthalmology of the Jos University Teaching Hospital .
Patricia Delsat Wade was born on June 18, 1961. She had her elementary education at the Army Children School, Kano between 1967 and 1970. She attended St. Theresa's Primary School, Jimeta, Yola between 1970 and 1974. She proceeded to the Federal Government College, Benin City, Edo State and obtained the WASC in 1979. Thereafter, she gained admission into the College of Medicine, University of Maiduguri in 1980. Patricia bagged her MBBS degree in 1986.
She did her housemanship at the Plateau Hospital, Jos and was subsequently mobilized for the National Youth Service. She served with the Police Clinic, Jos between 1989 and 1990. On completion of her national service in 1990, she was employed as a Medical Officer with the Plateau Hospital, Jos where she worked until 1991. She worked as a Medical Officer at the Jos University Teaching Hospital in 1992. She became a Resident Doctor the same year.
In 2000, she became a Lecturer at the Faculty of Medical Sciences, University of Jos. She rose steadily through the ranks to become Head of the Ophthalmology Department. She has been an Honorary Consultant at the Jos University Teaching Hospital and a Visiting Consultant to the Plateau Specialist Hospital in Jos. She is also a Visiting Consultant to the Dalhatu Araf Specialist Hospital in Lafia, Nasarawa State.
Dr Patricia Wade belongs to several professional bodies. She is member of the Ophthalmological Society of Nigeria; Member, American Academy of Ophthalmology; Fellow, National Postgraduate Medical College and Treasurer, Medical and Dental Consultants Association of Nigeria, Plateau State Branch. She was Treasurer, Nigerian Medical Association, Plateau State Branch from 2000 to 2002. She was also, Vice President, Medical Women Association of Nigeria, Plateau State Branch.
She was Chairman of the Good Shepherd Catholic Chaplaincy Council  and Chairman, Saint Vincent de Paul Society, Good Shepherd Catholic Chaplaincy . She was also Chairman of the Zebra Women Society and the Alheri Sisters Association.
She has written several papers in local and international journals. Her hobbies are cooking, reading and travelling. She has visited countries like Scotland, Dubai, Israel, Niger, Benin Republic and Togo.
It was in acknowledgement of her contribution to national development in the field of Human Medicine that she was conferred with the PSR Woman of Merit Gold Award in 2006.
She is married to Prof. John Wade, the pioneer Vice Chancellor of the Plateau State University, Bokkos and the union is blessed with four children – two boys and two girls.