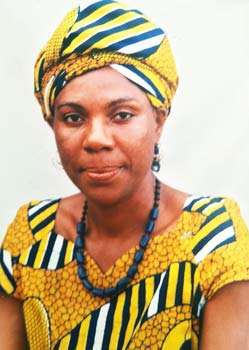 Lady Ngozi Nkiru Chukwuka is a highly accomplished civil servant. After serving for several years as a secondary school teacher in Imo State, she joined the services of the National Youth Service Corps as a Senior Inspector in 1994. She rose to become a Zonal Inspector and afterwards, Assistant Director, Mobilization in Anambra State. As Akwa Ibom State Coordinator of the NYSC since 2014,she has won acclaim from several quarters.
Ngozi was born on July 28, 1960 to Sir and Lady Sylvanus Ekeanyanwu of blessed memory. She comes from Mbieri in Imo State.Her father was a versatile personality. He was a community leader, a politician and a social crusader. He was noted for his skill in administration and for his courage. Her mother was a professional nurse and mid-wife. She was pious and very hard working. Her parents were disciplinarians. She learned from them that in order to succeed in life one must serve humanity and have the fear of God. Her grand father was a fisherman and preacher.
The young Ngozi attended Egbu Girls School and Ogwa Girls Secondary School. She had Grade 1 in the West African School Certificate Examination in 1979. She was initially admitted into the University of Nigeria, Nsuka (UNN) for a course in Biochemistry. Her mentor, the late Prof. Ray Ofoegbu of the UNN advised her to read Sociology/Anthropology because she had a pass in mathematics. She wanted to read Law but her mother insisted that she must drop the idea of reading law. With this, she settled for Sociology/Anthropology and graduated with a Second Class (Lower Division) in 1983.
Lady Ngozi Chukwuka also has a Postgraduate Diploma in Education from the University of Port-Harcourt. She completed her Master's degree programme in Industrial Sociology and Personnel Management at Imo State University in 1997. She came out with distinction as the best graduating student.
After her National Youth Service in 1984, she got a teaching appointment in the Imo State Secondary School system. She taught Economics with diligence in senior classes until 1994 when she secured the appointment with the National Youth Service Corps.
Her new job provided the opportunity to mobilize, lead, educate and motivate the youth for national development. She has made enormous personal sacrifices in her official capacities. Again, she is a patriotic public servant who believes in hard work, diligence and excellence. She views her job as a personal calling. She is motivated by a desire to raise a new generation of leaders. She is a workaholic who is self motivated.
Much early in her career at the NYSC, she earned the sobriquets such of "Action Lady," "Iron Lady" and "Mama Ndi Corpers." She emerged as the best staff of the NYSC at the orientation camp in Imo State in 1996. She received an award from the Institute of Corporate Administration of Nigeria which was in recognition of her exemplary performance as a Zonal Inspector.
She is married to Sir Chuma Chukwuka, a versatile and gifted composer of music, a pianist, and a lecturer. He hails from Nkwelle-Ezunaka Town in Anambra State. Her husband,she says, is a great motivator who provides the cushion she needs to perform optimally both at home and at work. Their marriage is blessed with four children.
She loves singing, reading, writing, social work, gardening and sharing the word of God. She has written two books namely Reflections and My Beloved Nigeria: An Anthology of Poems. She has some works which are yet to be published. She also writes motivational articles for NYSC orientation course participants.
It was in acknowledgement of her contribution to national development in the field of Public Service that Lady Ngozi Nkiru Chukwuka was conferred with the PSR Woman of Merit Gold Award in 2006.