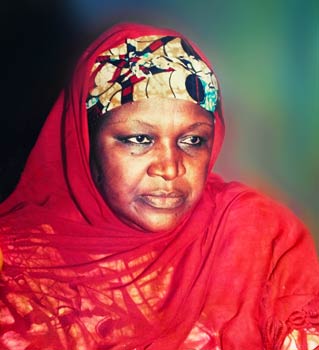 Hajia Talatu Salamatu Bashir is one woman who has made far-reaching contributions to the social and economic well-being of rural women in Kano and Jigawa States. As Chief Coordinator of the Women Development Initiative (WDI), her NGO works in tandem with the National Poverty Alleviation Programme (NAPEP) to alleviate poverty in rural areas.
Her NGO has recorded resounding success in its work among rural women and women of low socio-economic status through the provision of soft loans and literacy campaigns. The NGO's activities with women's groups are undertaken in 40 local government areas in Kano and Jigawa States.
Hajia Talatu's work has received widespread acceptance and acknowledgement from the state and Federal governments as well as international organizations such as the UNDP and the African Development Foundation (ADF). She is also a member of Action Aid Nigeria.
As a result of the confidence reposed in her, she was appointed as the UNDP Micro Credit Project Coordinator in Kano and Jigawa States in 2002. The WDI earned an award as the Best Micro Finance Institution in Nigeria.Mrs.Talatu Bashir who established WDI out of her concern for the plight of women in her environment, also promotes the establishment and ownership of small scale businesses among women. Her organization offers financial support for enterprise development.
Her NGO  also promotes political and leadership development among women. It engages in building the capacity of women to participate in decision making at personal, family and community levels. Women are also encouraged to actively participate in the political process.
Hajia Talatu Bashir was born on April 20, 1948 in Kano State. She had her early education at Kantudu Primary School, Roni between 1955 and 1957. She completed her primary education at Danwaire Primary School, Kano in 1961. She went on to attend the famous Queen Elizabeth School, Ilorin and obtained her West African School Certificate in 1968. Talatu proceeded to Ahmadu Bello University, Zaria in 1969 and bagged her B.A. (Ed) in 1973. She later obtained her Master of Education from ABU in 1978. She has a Certificate in English Language as a Medium of Instruction from the University of Leeds, UK. She also obtained a Certificate in Institution Building in Washington, USA in 1996.
A brilliant and active student that she was, she was Director, Kalam Pampam Cultural Group at Queen Elizabeth School.. She was also President of the Debating Society and a school prefect .She equally served as House Captain (Aisha House). While at A.B.U, she served as Vice President, Cultural Affairs, National Union of Nigerian Students in 1972. She was Treasurer, Students' Union, ABU between 1971 and 1972. She was Vice President of Kano Students Association (National Body) between 1970 and 1972.
Hajia Talatu commenced her career as a teacher at Government Girls College, Dala, Kano in 1973. She also served as Vice Principal at Women Teachers College, Gezawa in 1977. She became Principal of Kano Capital School in 1980. She moved on to Advanced Teachers College, Kumbotso in 1986 as the first Head of Primary Education Department. Between 1986 and 1988, she served as the first Coordinator, Child Development Centre at ATC Kumbotso. She was promoted Director, Planning, Research and Statistics in the Ministry of Rural and Community Development, Kano in 1988. She served in similar capacity at the Ministry of Animal Health and Forestry, Kano from 1989 to 1991. She also served briefly as the Acting, Director, Personnel Management in the same ministry.
This distinguished public servant became the Secretary of the Social Democratic Party in Kano in 1990. She later moved on to become Director, Council Affairs, Cabinet Office, Jigawa State in 1991. She also worked as Director (Admin and Finance) in the Women Commission in Jagawa State and later, as Director in the Cabinet Office. She reached the peak of her career when she was made Director-General in April 1992. She served as Director- General in the Cabinet Office and the Ministry of Information, Youth, Sports and Culture between 1992 and 1996. She became the first Nigerian Northern Field Office Coordinator of USAID after she resigned from the civil service in 1996. After gaining field experience, she set up WDI in 1997.
This versatile public servant has served as a member of several committees. She was a member of the NAPEP Micro Credit Forum  and a member of the Kano State Economic Empowerment and Development Strategy Committee for UNDP Assistance Framework (2004/2005). She served on the Committee on Development of National Policy Framework in Micro-Credit, Central Bank of Nigeria (2003-2004). She was Representative, Northern State Secretaries to the State Governments' meeting in 1993 and a member of the Transition to Civil Rule Committee (1992-1993).
A well-travelled person, she has visited the United States of America, the United Kingdom, Holland, Saudi-Arabia, Egypt and Republic of Niger.
It was in acknowledgement of her contribution to national development in the field of Public Service that Hajia Talatu Salamatu Bashir was conferred with the PSR Woman of Merit Gold Award in 2006.
She is married and blessed with five children. Her hobbies are gardening, travelling and politics.