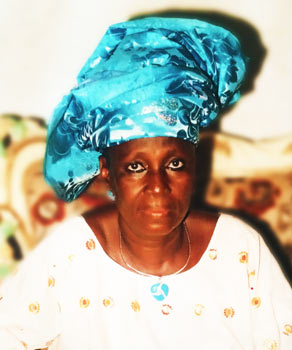 Chief (Mrs.) Kande Shekarau Angyu Masa-Ibi was born in Wukari in the Wukari Local Government Area of Taraba State to the family of late Manu Aji Finshi and Mallama Ashu Aji in 1941. As the name implies, Ayondo Kande was the eight out of eleven children. She came after seven males.
At the age of eight, she was admitted into Wukari Native Authority Elementary School where she successfully completed the first lap of her primary education in 1956. She went for her senior primary school in the same year.
Ayondo Kande is a woman of high integrity. Due to her industrious, dedicated and honest nature, Dr Shekarau Angyu Masa-Ibi, CON, who is the  Aku Uka or King of the Jukun People; Chairman, Taraba State Council of Chiefs; President, Wukari Traditional Council and Chancellor, Federation University of Technology, Owerri, found her worthy to replace his missing rib. In March 1961, she joined her husband who was a Personal Assistant to Dr. Samuel Danjuma Gani, the then Executive Officer in the Ministry of Animal Health in Kaduna and later Personal Assistant to Ambassador Jolly Tanko Yusuf, who was the Parliamentary Secretary for the Northern Region.
In 1963, she accompanied her husband when he was transferred to Lagos as Personal Assistant to Dr. Ibrahim Sangari Usman who was then Chairman of the Electricity Corporation of Nigeria (ECN), later named National Electric Power Authority (NEPA) and much later called Power Holding Company of Nigeria (PHCN). Due to the January 1966 Military Coup, her husband left the service to establish a business in Makurdi, Benue State. Ayondo Kande's husband was crowned as the new Aku-Uka in 1976. Afterwards, they moved permanently to Wukari. Their marriage is blessed with ten children and grandchildren.
As tradition demands, Ayondo Kande who is the first wife of the divine king of the Jukun has been confined to the home to assist her husband in maintaining the traditional rites, customs and practices of the people as well as promoting their values.
PSR Magazine conferred her with the Woman of Merit Gold Award in 2006 in acknowledgement of her contribution to national development in the field of Community Leadership.
Her hobbies include knitting, telling stories and settlement of disputes.