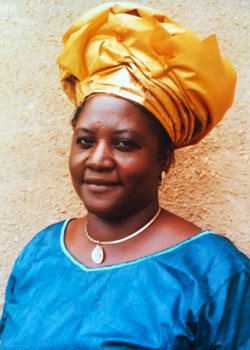 Mrs. Zainab Florence Nkwazema is a highly resourceful and accomplished educationist. She  played important roles in the implementation of educational policies in Kaduna State. She served as a teacher, Vice Principal and Principal for an unbroken period of over thirty years. She also served at the Ministry of Education Headquarters in Kaduna.
Zainab is both a dynamic educationist and an astute administrator. She combines some of the finest attributes of a teacher with those of a manager of resources. She handled numerous assignments with characteristic zeal and clinical efficiency. Her unblemished record of service has been widely acknowledged.
She was born on November 22, 1949 at Ikara, Kaduna State. She had her early education at St. Michael's Primary School, Kaduna from 1957 to 1960. She was at Anglican Girl's School, Kaduna from 1961 to 1962 and Queen Elizabeth School, Ilorin where she obtained the West African School Certificate in 1967. While at Queen Elizabeth School, she was the Best Literature in English Student in 1966. Her brilliance won her many other accolades in the school. In 1968, she went to St. Osyth's Teachers College, Clacton-on-Sea, Essex, UK where she obtained the UK Teachers Certificate in 1971. Not satisfied with her level of education, she proceeded to Ahmadu Bello University, Zaria where she bagged the Bachelor of Education in Home Economics in 1976.
A dynamic woman, Zainab began her working life as a teacher. She served in various capacities as House Mistress, Co-ordinator, Remedial English Teacher and Acting Principal at Government Girls Secondary School, Soba between 1971 and 1973. She also taught at Capital School, Kaduna .
She did her National Youth Service at Teachers College, Ikot Ansa, Calabar from 1976 to 1977. After her youth service, she served as a teacher at Queen Amina College, Kaduna for three years. She was the pioneer Principal of Government Day Secondary School, Kakuri, Kaduna from 1980 to 1988, She was appointed as Principal Education Officer and transferred to the Ministry of Education, Headquarters. While at the headquarters she served as the Chief Education Officer in charge of the Implementation Task Force on 6334 Educational Policy. She later served as the Assistant Director, Educational Services, Kaduna Zonal Office. She became Principal of Government Girl's Secondary School, Tafawa Balewa Way, Kaduna in 1997. She was later Principal of Government Girl's Secondary School, Kawo, Kaduna.
In the course of her working career, she  attended courses and conferences which  broadened her scope and opened up new vistas in educational management to her. She attended a ten-day course for middle cadre officers organized by the Federal Ministry of Education and the Administrative Staff College of Nigeria (ASCON) in 1989. She was a prominent and active member of All Nigeria Conference of Principals of Secondary Schools (ANCOP) She attended the workshop organized for Principals and Vice Principals by the National Institute for Educational Planning and Administration (NIEPA), Ondo.
She was a member of various committees and she performed several administrative duties. She was the Coordinator of teachers who taught children with problems in understanding and speaking English Language (the 'Ba Turanci') at GGSS, Soba, Zaria from 1971 to 1973. She was a member of the Police Relations Committee between 1987 and 1988. She was a resource person at the workshop on the use of soya beans held for Home Economics Extension workers by the Agency for Formal and Non-formal Education of the Federal Ministry of Education in 1998 in Uyo, Akwa Ibom. She has served on several committees for table payment of salaries in the Ministry of Education and its Zonal Offices. She also served as a member of a ministerial five-member committee set up to investigate the activities of the Agency for Mass Literacy in Kaduna State.
Mrs. Zainab Nkwazema has received several awards in recognition of her contribution to the development of education in the nation. She  received the Distinguished Service Merit Award presented by the Institute of Corporate Administration of Nigeria in 1998. She was adjudged the Second Best Principal in the Kaduna Zone in 1999. She was awarded an Honorary Doctorate degree of Business Administration by the Institute of Human and Natural Resource, Abuja in 2002. She received the PSR Woman of Merit Gold Award in 2006. She is a member of the Home Economics Teachers Association of Nigeria (HETAN) and the Nigerian Association of Women in Science, Technology and Mathematics (NAWSTEM). She is a member of the Institute of Corporate Administration of Nigeria.
Her hobbies include reading of books, magazines and journals. She also loves discussing vital contemporary issues, philanthropy, travelling, farming and tending poult