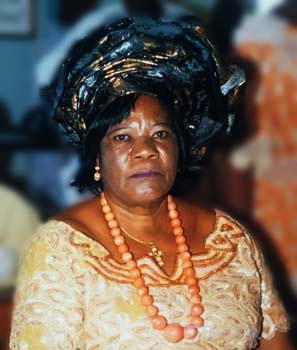 Queen Florence T.J.T. Princewill is a seasoned educationist, an administrator and a community leader. She is the wife of His Royal Majesty, King T.J.T. Princewill, Amachree XI, the Amanyanabo of Kalabari Kingdom in Rivers State.
Born on December 23, 1950, Florence obtained her First School Leaving Certificate from Harry Memorial State School, Obuama in 1961. Having obtained her Teachers Grade II Certificate, she enrolled at the College of Education, Port Harcourt and graduated with a National Certificate in Education in 1981. She bagged her B.A.Ed degree from the University of Hull, Great Britain in 1983. She holds a Master's degree in Educational Administration from the University of Port Harcourt.
She worked for three months as a teacher at Harry Memorial State School, Obuama in 1971. Queen Florence Princewill was the Head of the Junior Primary section of St. Andrew State School I, Port Harcourt in 1976. Having completed her National Youth Service, she was employed as a Tutor and posted to  Government Teacher Training College, Rumuokwuta, Port Harcourt, where she worked until 1982. She also taught at Government Comprehensive School, Borikiri, Port Harcourt, where she rose to Principal Master Grade in 1993. She was Supervisory Councillor for Health at  Degema Local Government Council between 1994 and 1996. She later became Principal of Government Secondary School (GSS) Eneka, Rivers State until 2003.
Queen Florence Princewill served as the Chairman of the Community Development Committee of Obuama between 2000 and 2003. Her tenure was very eventful as it attracted a good number of State and Federal Government projects to the community. These projects include the supply and commissioning of a 300KVA power generating plant, construction of four borehole facilities which are located in the compounds of Chiefs Odibo, Samuel Atuboinoma and Ndu, the renovation of the community's secondary school, building of 10 concrete pit toilets, provision of halogen bulbs for street lights across the town, construction of two low-cost housing units and construction of access roads across the town's new layout area. The CDC led by Queen Florence Princewill was also instrumental to the building of a block of classrooms for the Universal Basic Education Programme by the Federal Government.
Florence Princewill served as the Vice President of the Rivers State Chapter of the National Council for Women Societies (NCWS) between 1997 and 1999. She was the Vice Chairman of the Degema Advisory Council between 2001 and 2003. She was also a Trustee Member of the Mangrove Forest Preservation Society.
She is  participates actively in community-based activities. She is the President of Circle 10 Port Harcourt. She belongs to many social groups including Buguma Soibiere Ogbo of Buguma, Obu-Awo Wabakam-Obuama and Dein Na Lolo Ogbo of Obuama. She is matron to numerous organizations including Ombo Iriawo of Obuama, Kalabari Oweni Saki, Peterson's Age Group, Obuama, Harry Concert Choir and Tirase Iriawo of Kalabari.
Florence Princewill belongs to three professional bodies including the Literacy Society of Nigeria, the Historical Society of Nigeria and the Friendly Society of Nigeria.
It was in acknowledgement of her contribution to national development in the field of Community Leadership that Queen Florence T.J.T. Princewill was conferred with the PSR Woman of Merit Gold Award in 2006.
She is married with four children and many grandchildren. She enjoys reading, travelling, discussing and dancing as pastimes.