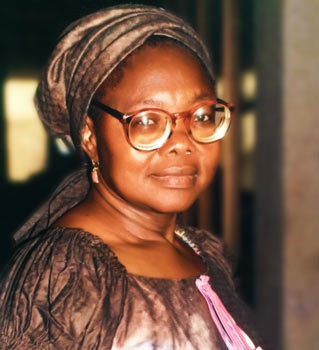 Nwaulari Nwabueze Iheonunekwu was born to late Tete Nwabueze and late Nwannediya Iheonunekwu of Ume-Eze Amamba, Ozuakoli, Bende Local Government Area of Abia State on August 29, 1955. She became Salome Yuyu Sambo after her marriage to Captain Datoyi Yuyu Sambo (rtd) in December 1969. Her husband hails from Shengere in Toro Local Government Area of Bauchi State.
Salome trained as a midwife at the School of Midwifery, Sokoto between 1976 and 1978. She trained as a nurse at the School of Nursing, Sokoto between 1981 and 1983. She has over 30 years of experience in programmes and personnel management, training, general administration, planning and clinical provision (FP/RH service). She has worked extensively within and outside Bauchi State. She is highly skilled in conducting  training for different cadres of health providers in RH, child spacing advocacy, community mobilization and outreach as well as formative research in developing reproductive health training material. She has spent several  years working with various international and national NGOs working in Nigeria including USAID, UNFPA and UNICEF.
Mrs. Salome Yuyu Sambo has recorded many achievements in healthcare delivery. Some of these include the upgrading of the Family Planning Clinic at the Specialist Hospital Bauchi to a referral clinic, prompt and quality care provided to pregnant mothers attending the clinic, decrease in the number of puerperal and neonatal sepsis in mothers who delivered in the maternity unit of the Specialist Hospital, Bauchi , reduction of cases of prolonged labour among pregnant women who use the clinic and the establishment of a functioning Special Baby Care Unit to improve neonatal care. Mrs. Salome Sambo has attended several workshops, seminars and training programmes on primary health care and safe motherhood within and outside Bauchi State.
Mrs. Sambo has an enviable career record. She was Clinical Instructor for student midwives at the Maternity Ward, General Hospital, Sokoto between June 1979 and January 1984. She was Nursing Examiner, School of Nursing and Midwifery Sokoto between 1979 and 1984. She has been a Clinical Supervisor and Local Examiner at Specialist Hospital, Bauchi since September 1987.
She was Principal Nursing Officer in charge of Maternity Ward at the Specialist Hospital, Bauchi between February 1990 and July 1992. She was Acting Head of Obstetrics and Gynaecology Department (Nursing Division), Specialist Hospital, Bauchi from 1991 to 1997. Salome Sambo was Chief Nursing Officer in charge of Obstetrics and Gynecology Department, Specialist Hospital, Bauchi between 1993 and 2005.
She has been an active member of the National Association of Nigerian Nurses and Midwives (NANNM) and the Nigeria Labour Congress. She is among the founders of the women's wing of the NLC, Bauchi State. Her commitment to trade unionism earned her the ticket to attend a conference with the theme "Enhancing the Trade Union Role in Social Security System in English Speaking African Countries"  in Nairaobi, Kenya in 1999.
It was in acknowledgement of her contribution to national development in the field of Nursing that Mrs. Salome Yuyu Sambo was conferred with the PSR Woman of Merit Gold Award in 2006. Salome Sambo speaks quite a number of languages namely Igbo ,Hausa, Gus(Ribina) and English.